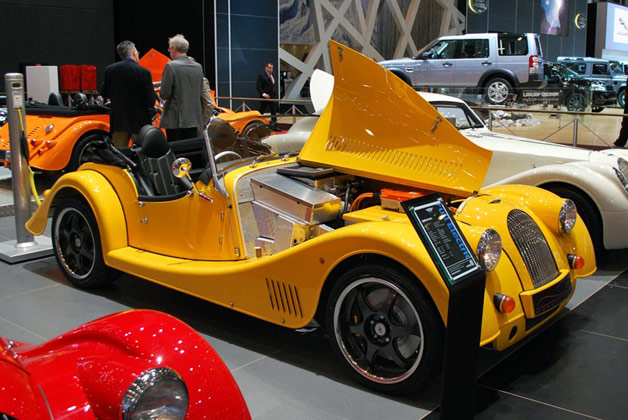 We are living in a time when the past is overtaking the present, at least from a stylistic perspective.  We recognize that the fine art design that went into a 1960s muscle car is a moving evergreen sculpture, something that will be admired hundreds of years from now, while the basic bare minimum that went into the average 1990s sedan is a time in automotive design history best forgotten.
With the great early and mid 20th century legacy design interfacing with the exiting new world of hybrid and electric technology, we are going to see some fascinating automotive works of art coming out of the most exclusive and boutique of automotive design houses.  One most recent and bright example of this is the Morgan Plus E Concept.
The Morgan Plus E Concept is vintage style electric sports car with a five-speed manual gearbox.  Designed by Morgan with the support of British technology specialists Zytek and Radshape, the Plus E has been shown as a concept to test market reaction.
"We wanted to see how much fun you can have in an electric sports car, so we have built one to help us find out," explained Morgan operations director Steve Morris. "The Plus E combines Morgan's traditional look with high-technology construction and a power-train that delivers substantial torque instantly at any speed. With the manual gearbox to increase both touring range and driver involvement, it will be a fantastic car to drive."
As with all current Morgan cars, the Plus E, assuming it makes it into production, will be available only in limited quantities, especially in North America.  Morgan has been gaining quite a bit of international attention lately, and with good cause, so Phoenix Valley luxury and vintage style enthusiasts should not be surprised if Morgan strikes up a distribution and sales partnership with an exclusive luxury dealership in the valley, such as Scottsdale Ferrari, sometime in the near future.