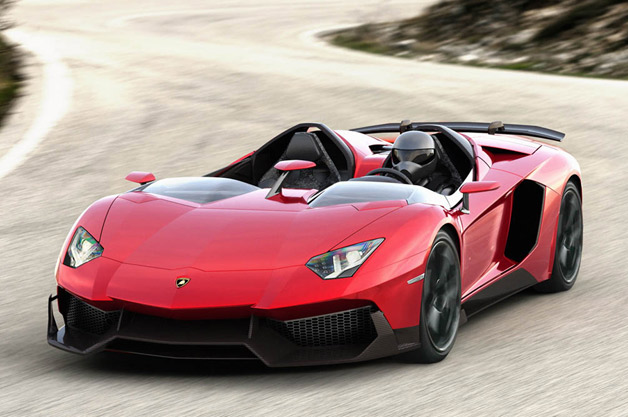 The good people at Italian luxury super sport outfit Lamborghini have debuted a new open structure super car, and just in time for summer.
The new Lamborghini Aventador J is a concept based upon what the original Aventador would be like if it were simplified to its most basic elements.  We do away with rear seating, a roof, a windshield, and other superfluousness add ons that only work to slow a speed machine like this down.  But this vehicle is not merely another hyper parred down version of a luxury automobile, but rather their is a coherent and unique vision behind every decision made in the drawing room.
The Lamborghini Aventador J is a radically open automobile – exterior and interior meld into each other. The designers and engineers in Sant'Agata Bolognese have designed a car with speed and minimalism in mind, without forgetting the trademark Lamborghini styling.  The results of the engineering put into this machine requires that drivers of the Aventador J must have the right equipment for rocketing at top speeds just shy of 200 mph.
"With the Lamborghini Aventador J, we have molded our brand DNA into its most definitive form to-date. This automobile is as extreme and as uncompromising as only a Lamborghini can be," says Stephan Winkelmann, President and CEO of Automobili Lamborghini.
"The new Lamborghini Aventador J is the most radical open supersports car of Lamborghini's history. Its name comes from our tradition and combines an unconventional design with technology innovation. Nowadays we are confronted with several regulations that we face in the spirit of challenge. The Aventador J is the proof that, despite the rules, Lamborghini will always make people dream, even in the future."
Phoenix Valley luxury and performance automobile enthusiasts can inquire about all purchases, as well as peruse the inventory of current production model Lamborghinis, at Lamborghini North Scottsdale.