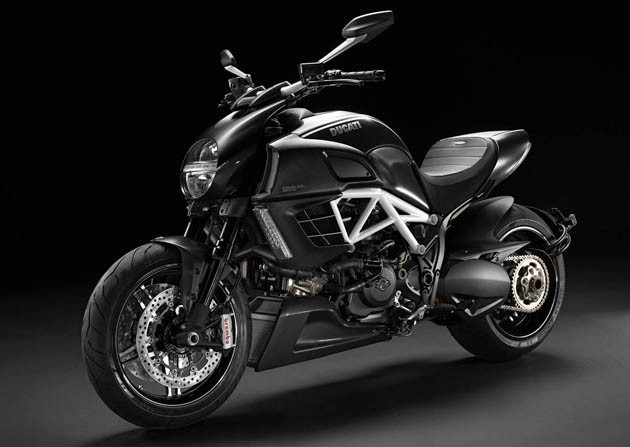 Whether you grew up watching the classic anime film Akira, or you could just never quite get on board with the aesthetics and cultural lineage of Harley Davidson, the Italian motorcycle brand Ducati is likely up your alley.  Ducati is a blend of both Japanese and Italian style, the high tech and vibrant design associated with Japanese motorcycles, with the elegance and sophistication associated with the Italian design studios.  Originally started as a motorized bicycle company in post war 1940s Italy, Ducati has grown to become one of the most successful and respected motorcycle companies in the world.
This month at the Frankfurt Motor Show Ducati teamed up with Mercedes to debut its collaborative two wheeled engineering masterpiece, the Ducati Diavel AMG Special Edition.  This collaboration between the two European automotive powerhouses was first announced at the 2010 Los Angeles Motor Show, along with a sponsorship agreement for the Ducati MotoGP Team which perfectly demonstrated the shared brand values of high performance, motorsport and excitement.  The marriage of the two visions was a success, leading to the first "co-inspired" model, elegantly combining the distinctive styling features from both companies.
Based upon the Diavel "Carbon" edition, the Diavel AMG Special Edition features AMG's signature 5-spoke wheel styling, carbon fibre lateral radiator grills with aluminium trim, AMG-style sport exhaust system with engraved end-caps and AMG-style horizontally ribbed seat upholstered in Alcantara.  The model's incredible attention to performance detail also ensures that every engine has its Desmodromic cam-timing set by hand and authenticated with the name of the engine technician engraved on the left-side engine casing. Further underlining the model's exclusivity, each motorcycle will have a numbered plaque on the fuel tank.
Even with all of this impressive internal machinery, the bottom line remains that high performance machines like the Ducati Diavel AMG Special Edition are statements of style and good taste, as well as an expression of an attitude of positive aggression and adventure.  Thus the exterior design aesthetics matter as much to most of us as the engine specifications.  This bike does not fail to deliver.  The exclusive new Diavel AMG Special Edition is dressed in matte black carbon fibre bodywork with AMG's very own "Diamond White Bright" stripe and frame colour contrasted with black wheels. The special edition wheels, seat and exhaust end-caps are all AMG branded while "AMG" is also laser-engraved into the air-duct panels either side of the fuel tank.
Phoenix Valley auto enthusiasts can view and test drive any current production model Ducati at Scottsdale Ducati, on Raintree and Northsight off of the 101 freeway.  Phoenix Valley auto enthusiasts should plan on attending the Phoenix Arizona International Auto Show to learn about the most recent concepts and innovations from Motocross to touring bikes, as well as the rest of the auto industry, taking place at the Phoenix Arizona Convention center over Thanksgiving weekend.