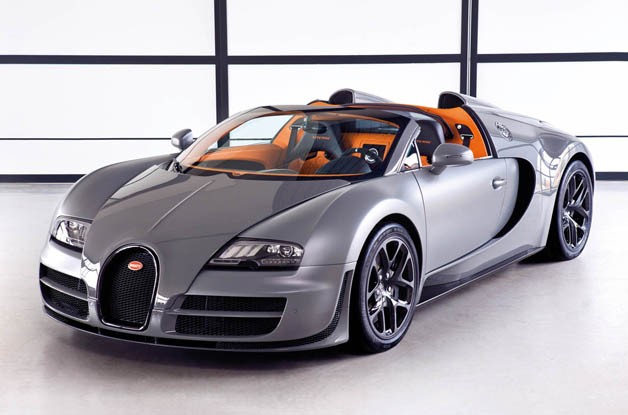 We all have that friend, the one who climbed a famous mountain, or backpacked through Europe, or won Teen Jeopardy 20 years ago and cannot stop talking about it.  Bragging rights: Just because you have them does not mean that you should use them.
In the automotive world, however, bragging rights may be just the thing that the superior manufacturer or design house needs to harp on about.  In the case of Alsatian automaker Bugatti, putting out record setting super cars, such as the new Vitesse which carries on the mantle of "Fastest road car on earth" (1,200 horsepower backing it up), the bragging rights are exactly what people want to hear.
The new Bugatti Vitesse offers luxury and performance automotive enthusiasts the best of both worlds.  Announced in February and debuting to much acclaim at the 2012 Geneva Motor Show, the Bugatti Veyron 16.4 Grand Sport Vitesse is a targa-topped model (pictured above) containing the engine from the Super Sport (quad-turbo W-16 engine, 1,200 horsepower, and 255 mph top speed).
This speed beats out the 253 mph of the basic Veyron, and lags a little behind the 267 mph of the Super Sport (same engine, fixed roof).  What this means is that Vitesse drivers are going to go as fast as is currently humanly possible while still enjoying a sharp breeze and an open sky.
"We were instantly electrified by the idea of transferring the power of the Super Sport to the Grand Sport, which previously delivered a maximum of 1,001 hp, and thus taking the roadster to a new level," says Wolfgang Dürheimer. The President of Bugatti Automobiles S.A.S. continues: "Our team has managed to transfer the world's most powerful car engine to the open-top sports car while taking all vehicle dynamics and aerodynamic parameters into consideration."
Phoenix Valley automotive enthusiasts can view the new Vitesse when it arrives, as well as ogle the current production models, at Scottsdale Bugatti.