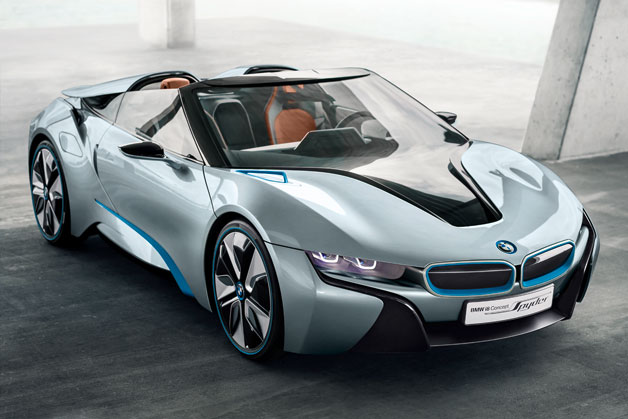 Last year at the Frankfurt Motor Show BMW debuted its first two concept vehicles under its new sub brand, BMW-i. The BMW-i sub brand serves as a means and mode of exploration into the future possibilities of what an automobile can be. The two vehicles in question, the BMW i8 and the BMW i3 City Car, are serving as the foundation for the future forward vision of the design team at BMW-i.  In the spirit of last years debut, BMW has unleashed its newest concept, the BMW i8 Concept Spyder.
The new BMW i8 Concept Spyder is the third vehicle to be developed and added to the BMW-i concept group.  The Spyder, while not a replacement for last years i8, is a sort of re-conceptualization, pushing not only the brand, but the genre of the concept car as a whole into another realm of innovation.
The BMW i8 Concept Spyder is a plug-in hybrid powered by an eDrive drivetrain combining a high-performance electric motor and petrol combustion engine. The lithium-ion battery supplying the motor with power can be recharged in an extremely short space of time from any domestic power socket. Together, the car's minimised weight, low centre of gravity and finely judged balance, coupled with a combined system output of up to 354 hp, promise unbeatable dynamic capability, exceptional efficiency and unbridled driving pleasure.
The combination of intelligent lightweight design and state-of-the-art hybrid technology imbues the BMW i8 Concept Spyder with genuine sports car performance, yet its fuel consumption is no higher than you would expect from a small car.
Among the most eye-catching features of the BMW i8 Concept Spyder are the upward-swivelling, windowless doors and a range of purpose-oriented on-board equipment including electric kickboards stowed under a transparent tailgate. The sports car is based around the innovative LifeDrive architecture, itself underpinned by a lightweight modular construction and the use of high-quality high-tech materials.
Phoenix Valley automotive enthusiasts should stay tuned to Vroom for more updates on the BMW-i lineup.  Phoenix Valley BMW lovers can view and test drive any current production model BMW at their local Phoenix Valley BMW dealer.