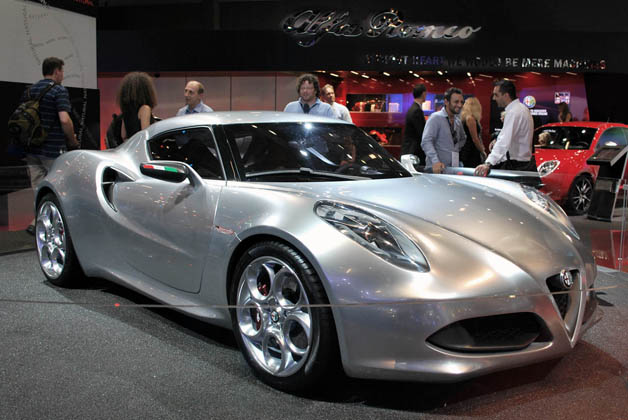 Making its debut last year at the 81st Geneva International Motor Show, the Alfa Romeo 4C Concept has officially been approved for production.  What is making a lot of Phoenix Valley luxury and performance enthusiasts salivate is that Alfa Romeo has also made their distribution intentions clear: We wish to re-enter the US market with the 4C.
The Alfa Romeo 4C is compact looks and feels like a super car  in league with the Bugatti Veyron or the Lexus LFA, yet its simplified engine and shockingly low price tag (keep reading to find out) sets it apart from the crowd.
Alfa Romeo was originally intended to invade the US luxury auto market in the latter half of this summer, but as of the now the automotive manufacturer finds themselves still sorting through mountains of red tape and regulations.  However, it has recently been reported in Automotive News that Fiat Group (the umbrella company for Alfa Romeo) has been granted the U.S. trademark for "Alfa Romeo 4C".  While the date of actual sale of the Alfa Romeo 4C keeps getting pushed into the future (late 2013 currently) we do know that Fiat Group means business.
"This is an extremely important step for Alfa Romeo, as we continue to reposition our brand and prepare it for global distribution. The United States remains our primary objective as we prepare for a 2013 introduction of our models," added Harald J. Wester, Fiat's Chief Technology Officer and head of the Alfa Romeo and Maserati Brands.
Maserati is set to produce the 4C in Italy with the intention of exporting internationally.  The luxury high performance car comes with a $59,310 pricetag here in the US.
Phoenix Valley luxury and performance automobile enthusiasts who wish to acquire an Alpha Romeo 4C, when they do eventually hit Phoenix Valley shores, need to get in line now, as only 2,500 models will be produced each year.