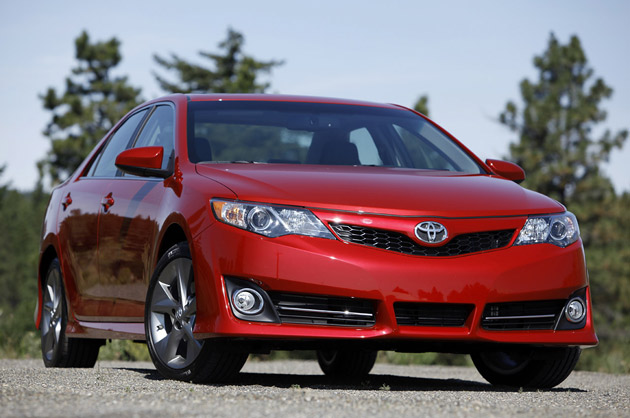 I heard someone say recently that "if you have anything nicer than a Toyota Camry, you are just showing off."  While I cannot wholeheartedly endorse this statement with all of it's varied ramifications, I must admit that the speaker did have a point.  The Toyota Camry is a great car, perfect for a wide variety of uses and lifestyles.  With 90 percent of the more than 15 million Camrys produced since since its introduction in 1983, the Camry has long been considered a halmark of the practical man or woman.
The redesigned 2012 Toyota Camry offers no area disappointment for the practically minded consumer, but it does offer some change in structural makeup.  Toyota engineers have worked to increase the vehicle's overall structural rigidity by working in additional high-strength and ultra-high-strength steel in the A- and B-pillars. This new material will work to cut some of the vehicles weight while also beefing up the rigidity of the chassis, which is a good thing.  Structural strength is the key to the redesign, with a total of 56 new welds spread throughout the chassis for greater rigidity.
The bottom line is that the 2012 version offers some improvement on an already near perfectly designed car.  The real kicker with this new Camry is the price tag.  The 2012 Camry L starts at $21,995.  Moving up to the LE marks it up to $22,500, about $200 less than the 2011 LE.  Spend another $500 and you can move up to the four-cylinder-equipped Camry SE, which costs $23,000 and is priced $965 lower than the 2011 model it replaces. The V6 SE will cost $26,400, the same as the 2011 pricing, while the four cylinder XLE is running at $24,725 ($29,845 if you want the V6).  This brings the XLE down to $2,000 less than the 2011 model, while the pricing for the V6 version remains consistent with the 2011 price tag.
Phoenix Valley auto enthusiasts can view and test drive any current production model Toyota at any Phoenix Valley Toyota dealer.  Phoenix Valley auto enthusiasts should plan on attending the Phoenix Arizona International Auto Show to learn about the most recent concepts and innovations from Toyota and the rest of the auto industry, taking place at the Phoenix Arizona Convention center over Thanksgiving weekend.