With this month's launch of Hometta.com, homebuyers gain an unprecedented opportunity to build and enjoy intelligent, architect-designed homes. Hometta, a Web-based modern home plan company, is offering modestly sized, sustainable home designs from internationally recognized architecture studios, with the goal of making great design accessible and affordable to a large cross-section of prospective homeowners. Along with an initial offering of close to 30 modern home plans, Hometta provides a complete array of educational resources that take the mystery out of building a new home.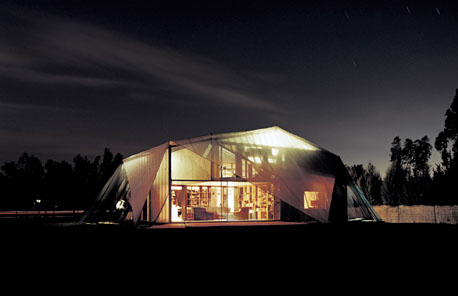 Mark Johnson, a Houston-based green homebuilder, and his frequent collaborator Andrew McFarland, a Houston architect, founded Hometta to improve the way residential architecture is designed and delivered today.
"Hometta is offering modern home plans from sought-after designers at affordable prices," said Johnson. "We believe great design should not be limited to a small, elite market."
Unlike traditional stock plan companies, Hometta has partnered with award-winning, progressive architects to develop home plans that emphasize affordability, sustainability and style. Johnson and McFarland enlisted four "core" architects and designers, all known for highly innovative work, to establish the company's vision. The core group — James Evans, Dawn Finle, Brett Zamore adn Blair Satterfield — in turn recruited the 20 talented studios who are contributing designs at launch. Collectively, these first 24 studios represent 17 cities, 9 US states, and 4 countries (Chile, China, Germany, and the U.S.).
"Hometta is enabling us to reach a segment of homebuyers, those looking for smaller homes, who might never have considered real architecture to be an option," says Wes Jones, principal of Los Angeles-based Jones, Partners: Architects. "As someone who believes that architecture's responsibility to society begins with the dwelling, I'm very happy to be associated with this."
Images of home plans now available through Hometta can be viewed at www.hometta.com/design/houses.
Free of charge, visitors to Hometta.com may view all home plan design renderings and floor plans, as well as original editorial content: professionally produced audio slideshows and video podcasts and a professionally edited blog with exclusive content from Hometta contributing architects.