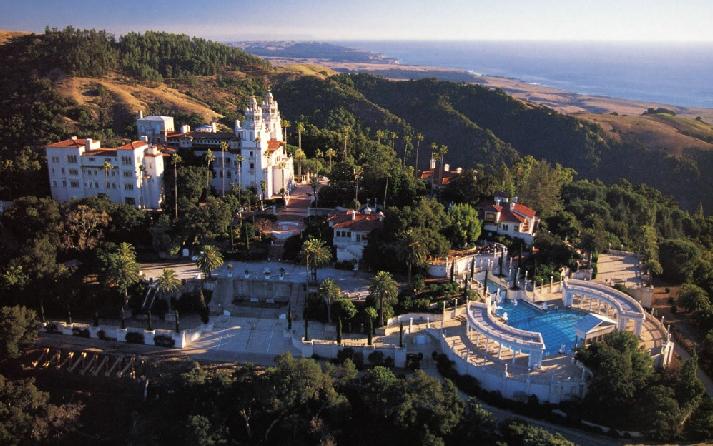 For 2009 Hearst Castle Overnight, renowned interior and lifestyle designer Barclay Butera will create a contemporary interior inspired by the design collaboration of Julia Morgan and William Randolph Hearst. Notably, this is the first interior design of a room at Hearst Castle since Mr. Hearst left the estate in 1947. Butera's respect and admiration for the old Hollywood lifestyle garnered him this enviable project.
The design of this rarely seen room and special evening celebrates Mr. Hearst's passion for the decorative arts, his graciousness in sharing this passion with countless guests and the importance of his collections housed at Hearst Castle, a State Historical Monument and California State Park. The overnight stay at the Castle was won in a benefit auction sponsored by Friends of Hearst Castle in 2008, honoring the 50th anniversary of public access to Hearst Castle. A nonprofit cooperating association, Friends of Hearst Castle supports art preservation of Hearst Castle's world-class collection of art and artifacts and art education, including programs for youth at-risk.
The winning couple has invited eight friends for a swim in the Neptune Pool, tennis, dinner on the terrace, a garden stroll, and an after dinner movie in the Castle theater, followed by an evening just for the two of them in this specially decorated showcase room with a view of the Pacific.
The Barclay Butera designed Hearst Castle Overnight room, will feature contemporary reproductions and interpretative designs by Hearst Castle Collection licensees whose home furnishing designs bring new awareness to the depth and importance of Mr. Hearst's collections, while contributing significantly to Hearst Castle's preservation. Butera is one of the select licensees, having debuted upholstery and pillows over the last year. The individual pieces and design of the room for this special evening respect the historical environment of the Castle with integrity and illustrate the contemporary relevance of Hearst Castle, its art, antiques and antiquities.
Mr. Hearst was a man with a reverence for the past and anticipation of the future. By bringing together his collections at Hearst Castle, he sent the message that one should be immersed in and surrounded by art and this message continues at Hearst Castle with the preservation of the works of art and antiquities for generations to appreciate. It is fitting that Butera who brings art "home" is redecorating a room in a home of priceless art and beauty.
Barclay Butera has great admiration for old Hollywood and great architecture, having owned former homes of Frank Sinatra and Betty Davis, and initiated redesigns that paid respect to their special past. He did the same as creative director of the $25 million renovation of L'Auberge del Mar in Del Mar, CA, a former playground of old Hollywood. Butera knows how to capture the era in furnishings, in this case for the ultimate home, Hearst Castle. Butera's designs and accessories will honor the environment with integrity and interest. Proceeds from Hearst Castle Collection licensed designs benefit art preservation and education at the Castle. The design of the Hearst Castle Overnight bedroom is being accomplished through the generous contributions of: Architectural Detail Group, Barclay Butera Home, Castilian, Habersham, Hearst Castle Collection Design, Ambience by Minka Group, Pindler & Pindler, Taracea, Tilevera, Jeff Margolin and Susan Ward Designs.
"I am honored to be selected as the interior designer on this project. I have a great respect for Mr. Hearst's vision and am confident that he would be proud of the completed room in this incredible home," states Barclay Butera, CEO and President of Barclay Butera, Inc.
The next Hearst Castle Overnight is planned to honor the 25th anniversary of Friends of Hearst Castle in 2010.
www.barclaybutera.com, www.barclaybuterahome.com