Trends to Try, Traditions to Keep: The Wedding Cake
First, choose a base. Chocolate, Vanilla, Red Velvet, or Carrot for the traditional types, Banana Foster, Coconut, German Chocolate, Lemon or Hummingbird for those with an adventurous spirit. Then, choose a filling, fruity and refreshing, like a tart lemon curd or raspberry mousse, or decadently sweet and sinful, like dulce de leche, chocolate truffle ganache or bavarian cream. The almost final step, selecting a flavored buttercream varietal of frosting, lands you at the postion to select a few décor pieces and voilà! A cake to display with honor and serve during the remaining memorable moments of a wedding reception.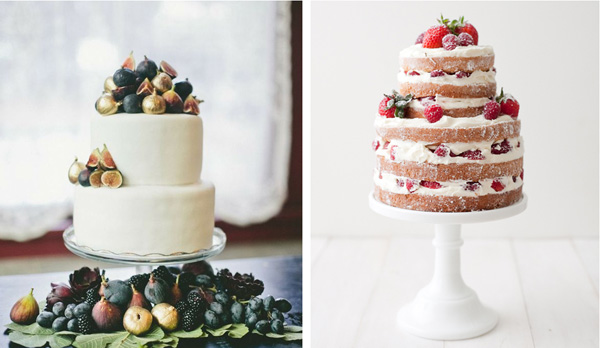 Wedding cakes, in all of their tiered, frosted, adorned glory, have been a staple at marital celebrations since the first recorded weddings in Ancient Rome. In their original form, an unsweetened "cake" of wheat or barley was baked for the celebration. The loaf was broken over the bride's head to bring good fortune, and ensure prosperity to the newlyweds, in addition to symbolizing the groom's dominance over his new wife.
In Medieval England, bakers began a tradition of stacking sweet rolls and buns as high as possible to display at the wedding. Couples would try their best to stretch above the tip top bun to engage in a passionate kiss. When accomplished, an unsaid agreement was solidified between the couple and the heavens, ensuring a life filled with good fortune, endless love, and many, many babies.
It wasn't until the 17th century that a "bride's pie" of mincemeat evolved into a "bride's cake", a sweet dessert made from a simple pound cake and frosted with a white icing. The white coloring of the cake was generally accepted as a symbol of the bride's purity. As time went on, the white icing stood as a sign of the family's wealth and status. The more expensive and higher the quality of the refined sugar used, the whiter the coloring. The whitest of white icing was used to decorate the cake at Queen Victoria's wedding to Prince Albert in 1840, coining the well-known term "royal icing" still used in bakeries today.
Customarily, each wedding guest was to enjoy a piece of the cake, to share in the good luck brought about by this type of event, and to strengthen the blessing of children for the couple. It was considered to be extremely impolite for anyone who refused a slice. The tradition still stands today, albeit with a bit more of a lenient acceptance of etiquette.
Throughout history, trinkets buried in the wedding cake held different meanings, a glass ring for the next to be married or a coin for future prosperity, but it wasn't until the 1800s that trinkets began showing on top of the cake. Small animal figurines, sugar flowers, even fruit and live florals gained popularity at the end of the century, with toppers mimicking the couple's appearance entering wedding history around 1950.
Today, the ideas for cake toppers seem limitless. Gold flaked figs and blackberries, gorgeous showings of peonies and dahlias, bobble-head mini versions of the couple, or enthusiastic exclamations of "Hooray!" adorn wedding cakes in venues all over the world. The opportunity to play with patterns, colors, sugar crystals, flora and fauna is truly endless, giving couples an opportunity to let their personality and tastes shine. Even those who are more inclined to choose a dessert bar, candy bar, or homemade pie, should consider including a small cake to cut – for tradition's sake.
Visit Lucky & In Love's Wedding Cake Pinterest Board for more ideas.
Photo Credit: 1 - Fig adorned cake from One Love Photography 2 – Naked Strawberry Raspberry Cake by Matchbox Kitchen
3 & 4 – Little Cat Design Co. via Sweet and Saucy
About the author
Katherine Thornhill is a coffee shop connoisseur, European travel fanatic, sometimes stylist and admittedly a bit wedding obsessed. She spends her days working at her dream job, as the owner of Lucky & In Love, a company specializing in wedding production and design. Lucky & In Love is a company founded with the goal of creating sophisticated, innovative and impactful weddings, rooted in tradition. Its couples find joy in the details, they value great design, and they're ready to have a little fun throughout the process of wedding planning. For more information, and to inquire about booking - visit www.luckyandinlove.com. Connect on Instagram at @sparklefarkle, or Twitter at @luckyandinlove.