Dr. Remus Repta, Board Certified Plastic and Reconstructive Surgeon of Scottsdale, answers the questions that you, the public, have submitted. Dr. Repta and Arizona Foothills Magazine are excited to help bridge the void between the curious public and the expert for safe, informative, and real answers.
If you want your plastic surgery questions answered next, contact us at askthesurgeon@azfoothills.com.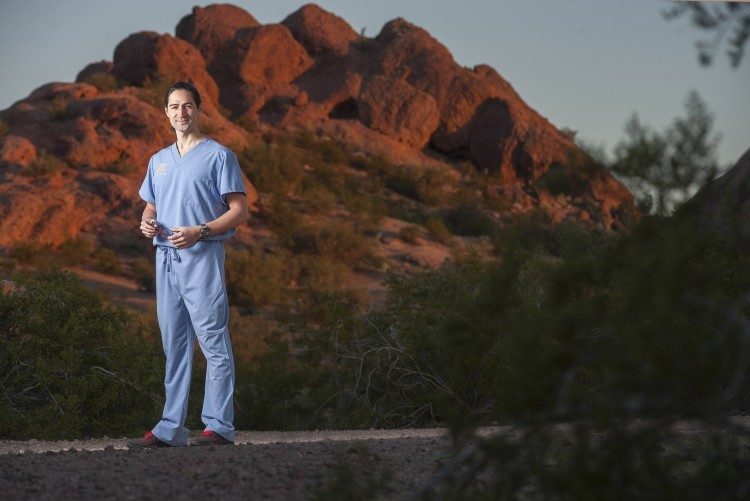 Downsizing: When it comes to breast implants, it can be a good thing!
I've had a few questions recently about "going smaller"—women wanting to downsize their breast implants. A simple breast implant exchange is not challenging to accomplish, however, we often need to have previous breast implant pocket modified so that the new, smaller implants are higher up on the chest. Therefore, when patients want to get smaller implants they also frequently want perkier breast shape with similar type cleavage.
The term for the procedure to reshape the breast implant pocket is called capsulloraphy. This means to repair the capsule. What this entails is suturing the internal breast implant pocket from the larger implants to allow the new smaller implant to sit higher up on the chest. Believe it or not, although this sounds simple it can be one of the more challenging procedures to do just right.
Below is a before and after photo of one of my patients that had smaller implants placed and a capsulloraphy performed.   As you can see, her after result has smaller breasts overall but perkier and more naturally positioned.

All the best,
Dr. Remus Repta
drrepta.com
855-377-3782 (Dr Repta)
8900 E Raintree Dr Suite 200
Scottsdale AZ, 85260
For more information on Dr. Repta at AAA Plastic Surgery, click here.
For more information on Dr. Repta's tummy tuck and body contouring procedures, please visit scottsdaletummytuck.com.
To 'Ask the Surgeon' yourself, email askthesurgeon@azfoothills.com (all inquiries will remain confidential). The top questions will be featured in each month's "Q&A Ask The Plastic Surgeon" featured blog.