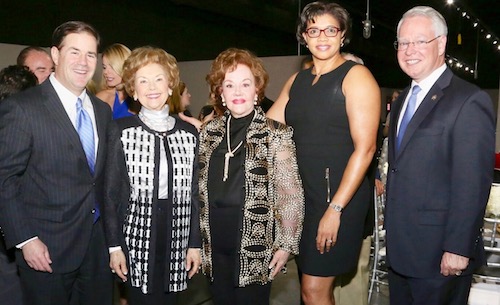 Guests mingling at the Childhelp party were not only surrounded by a sea of the most expensive models of Ferraris . Jaguars. Bugattis and Bentleys. … but some of them arrived in exotic wheels. So, as you drove into the parking lot outside the party - it was a car aficionado's delight as well. The venue was a building, which houses the private car collection of one of the charity's supporters.
AZ Governor Doug Ducey, Chief of Police Jeri Williams and Maricopa County Attorney Bill Montgomery (pictured above with Childhelp founders Yvonne Fedderson and Sara O'Meara ) are strong supporters of Childhelp which fights child abuse through its treatment programs such as the Childhelp Advocacy Center and Childhelp Group Homes, its hotline and Speak Up Be Safe programs.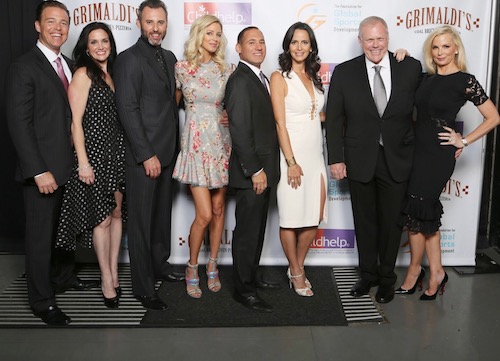 The food stations set up between the display of classic cars boasted prime rib…. And the guest list? PRIME as well. Business and community leaders and philanthropists - - including Barrett Jackson Auction Co.'s - Craig Jackson and wife Carolyn Jackson who are always at home amidst a collection of cars.
(Craig Jackson and Carolyn Jackson are pictured above with Thaxton Peterson and Sara, Tara and Dr. Dan Ryklin and Ivy and Joey Ciolli.)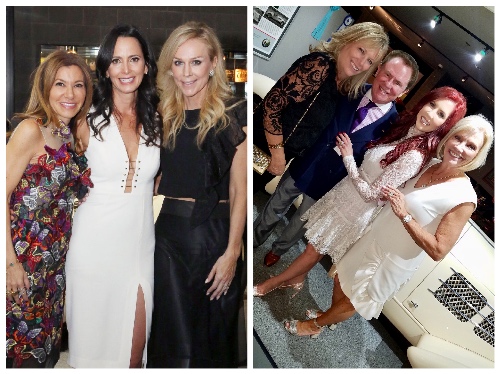 The evening's venue was the perfect place to announce the details of the next Drive the Dream gala, set for January 13th, 2018. Ivy Ciolli announced the exciting news that Jewel would be headlining the fancy fete, sponsored by Grimaldi's Pizzeria. Joey Ciolli, CEO of Grimaldi's is a Childhelp board member.
Event chairs Ivy Ciolli, Chrissy Sayare and Erika Williams, are pictured above left. Pictured above right, are Childhelp Advisory Board Member Cindi Nannetti, last years gala Co-chairs Richard Stephenson and Dr. Stacie Stephenson and Carol Hebets.)

(Pictured above right are the gala's Co-Chairs Carol and Jim Hebets. Maticopa County Sheriff Paul Penzone is pictured right with Childhelp Co-founder Sara O'Meara. )

(Scottsdale Mayor Jim Lane is pictured above right with wife Joanne Lane. Pictured above left are Sharon Lechter, Char Hubble, Erika Williams, Bob Bondurant and Pat Bondurant, Carol Hebets and Jinger Richardson. )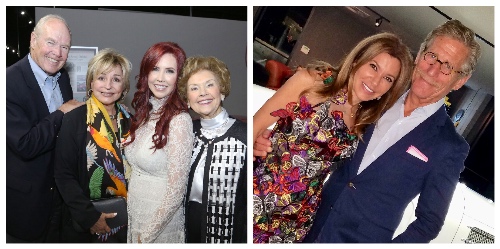 (Pictured above are the newly happy engaged couple Phil Edlund and Sharon Dupont, Dr. Stacie Stephenson and Childhelp co-founder Yvonne Fedderson and left are Chrissy and Mitchell Sayare. )
Proceeds benefit the Childhelp Children's Center of Arizona dedicated to Linda Pope.

Kathy Shayna Shocket is a freelance Writer and TV-Field Producer. The former TV entertainment reporter has written for such publications as TIME Magazine, Money Magazine, PEOPLE Magazine, The Hollywood Reporter and The NEW YORK TIMES. You can reach her at redkarpetgirl@aol.com