Kathy Shayna Shocket has the inside view on the stories that make headlines.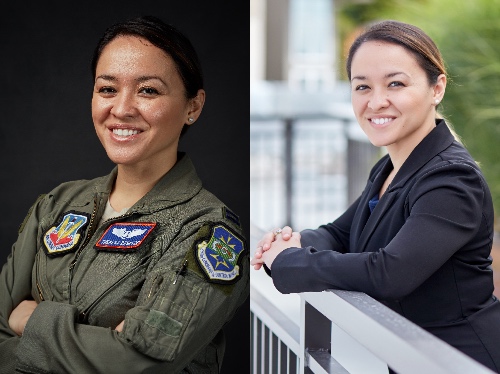 Could she become the next big recording artist?
Theresa Bowman, a nine -year U.S. Air Force veteran, has served an impressive three tours in Southwest Asia. Among the many respected roles she had in the Air Force, Theresa served as an Air Battle Manager on the E-3 Airborne Warning and Control System. She also dreamed of a music career.
Now, she's a finalist in We Are The Mighty's Mission: Music - a nationwide search for a talented artist with a military connection. Growing up in Phoenix, with a passion for music, Theresa learned to play the piano, cello, guitar and ukulele. And she carefully describes to me how she's passionate about the transfer of emotion through music.
So how did she embrace her musical talents during her deployment?
Fortunately, her ukulele is small enough to accompany her on deployment, so she had the opportunity to practice and write music from anywhere. Her song, "Your Lullaby" was one of those. It caught the attention of Mission: Music's call for submissions and she was flown to Nashville to record at the legendary Ocean Way Studios.
"As an artist I consider myself a modern-day renaissance women," says Theresa who's now moved to Seattle. Now, your vote could help change Theresa - or one of the other four finalists' lives. That's because We Are The Mighty, in partnership with USAA, is asking the public to vote online for their favorites. The winner will take the stage at the Base*FEST on Oct. 7 in Pensacola, Florida, before an expected crowd of over 15,000 people.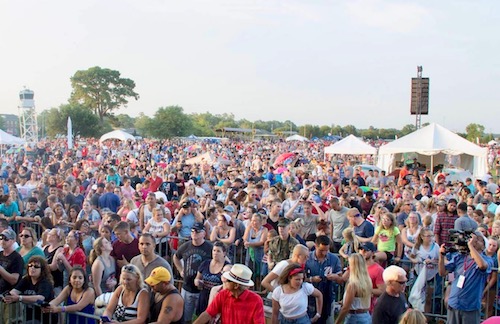 (Crowd at the prior Base*FEST presented by WATM and USAA)
"We are so excited about the finalists, and the opportunity for one of these heroes to take the stage at the festival," says Steve Cochran, USAA's associate vice president for military affinity and sponsorships. "Music truly is something that brings people together and increases camaraderie, and USAA is proud to support the military music community."
We Are The Mighty's Mark Hyatt proudly adds that, "The program finalists represent a diverse selection of military experience and inspiring stories of music and service." You can vote everyday now through Sept. 23. Here's the link. For every vote received, USAA will donate $1 to Guitars for Vets (up to $10k), a non-profit group that helps veterans heal through music.
Good luck Theresa - and to all the finalists. Stay tuned.

Kathy Shayna Shocket is a freelance Writer and TV-Field Producer. The former TV entertainment reporter has written for such publications as TIME Magazine, Money Magazine, PEOPLE Magazine, The Hollywood Reporter and The NEW YORK TIMES. You can reach her at redkarpetgirl@aol.com