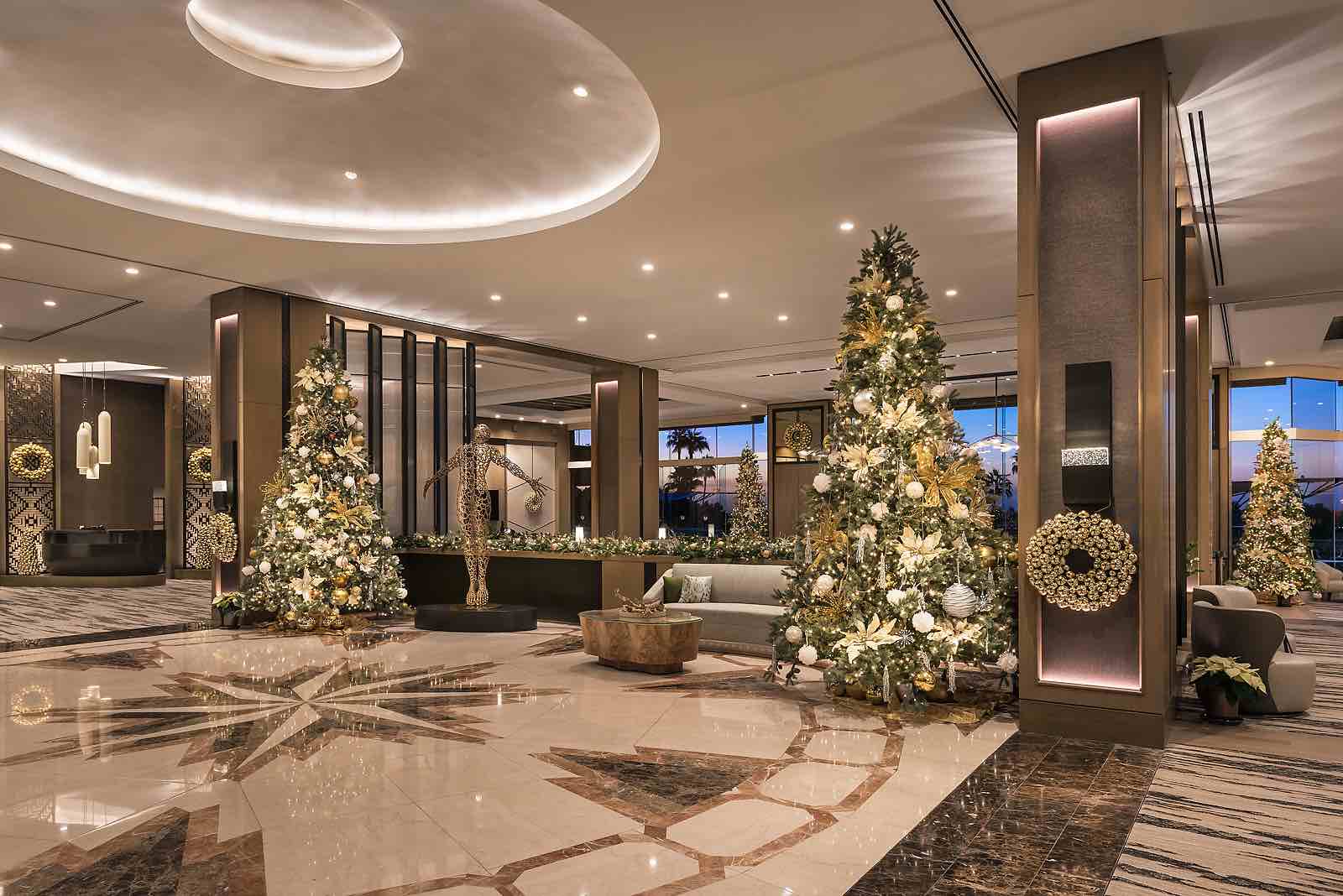 Karen Schaler celebrates Christmas all year round and she's passionate about giving back and sharing the Christmas spirit.
She's the author of seven Christmas stories, in just the last two years, including the Hallmark hit TV movie and novel Christmas Camp, published by HarperCollins, and then went on to bring it all to life creating Karen Schaler's Christmas Camp. And you can be a part of her magical holiday for grown-ups at the Phoenician resort for two weekends, Dec 5-9 and Dec 12-16!
Karen's excited about the immersive experience, which she's personally nurtured for an affordable getaway at the AAA Five Diamond luxurious collection in Scottsdale, AZ. (She's pictured above, middle, holding her Christmas Camp book, at last year's soft launch at the iconic Phoenician property.)
We had the chance to chat before she "went back down the rabbit hole" to continue writing her next uplifting, filled with hope and joy script. "I wanted to partner with a luxury property that could make it magical, but, I didn't want to the cost to be a $2,000 package," she says of her spirit of giving back.
"If you do the math of what's included in package, this is a gift the Phoenician is giving back as well, with all of the wine and champagne and accommodations at a luxury property." Starting at $259 per night (for one night or more), it includes accommodations for two, activities with Karen, daily breakfast, tote bags with T-shirts, holiday baking, cooking, mixology classes, holiday crafts, and much more.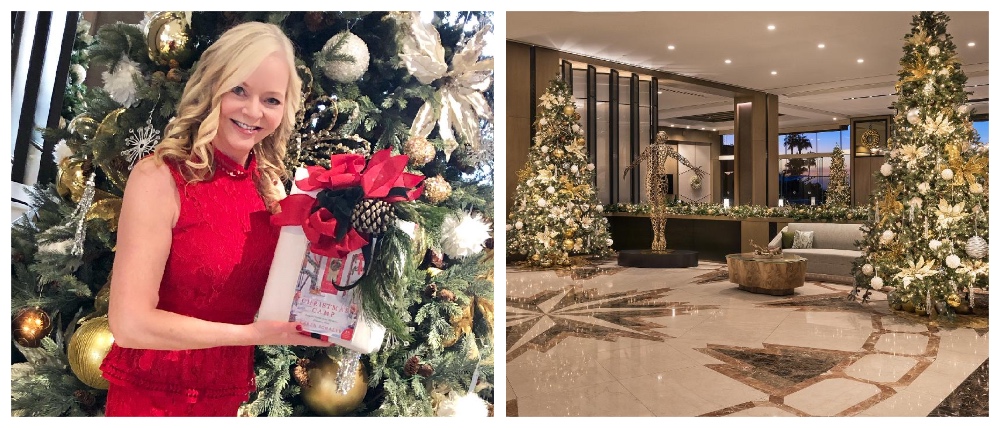 "Even the Phoenician staff wear the Christmas Camp T-shirts. People connect with each other and there's a sense of community," adds Karen. With four Christmas TV movies, starting with the Christmas Prince spec script she wrote that became a Netflix sensation, and three Christmas novels later, (her latest is Finding Christmas, published by HarperCollins) she's certainly earned the nickname Christmas Karen!
"Karen's passion for Christmas is truly inspiring, and we are thrilled that she will be hosting all of our Christmas Camp events," says Phoenician Director of Public Relations Denise Seomin. "We look forward to bringing her Christmas Camp to life as a one-of-a-kind Phoenician holiday tradition."
As seen in her Christmas Camp story, the message of disconnecting to reconnect to Christmas, inspired her to bring the script to life. It's about an ad executive who is sent to a holiday retreat for a "holiday attitude adjustment. You can ask her about it at Christmas Camp, as Karen will be hosting all the activities. Karen's next Christmas movie "Rediscovering Christmas" premieres on Lifetime December 15 and her newest novel Finding Christmas is in stores now. For more information on Christmas Camp click here.
Yes, the three-time Emmy award-winning storyteller, former journalist and creator of Travel Therapy TV, is planing to expand her trademarked Christmas Camp to other cities. "But the Phoenician will always be the home and incubator for me, working with their staff who have truly embraced the magic of it," she says.

Kathy Shayna Shocket is a freelance Writer, and TV- Field Producer. The former TV-Reporter has written for publications such as TIME Magazine, MONEY Magazine, PEOPLE Magazine, The Hollywood Reporter and The NEW YORK TIMES. You can reach her at redkarpetgirl@aol.com