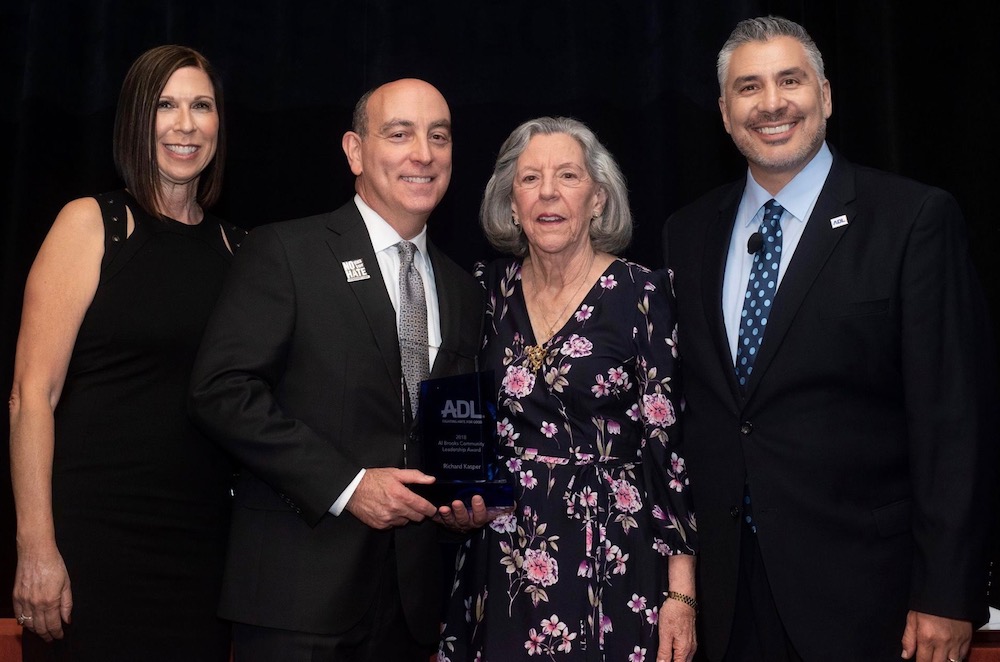 As guests gathered for the ADL's annual Torch of Liberty Award gala, the nation was still coming to terms with one of the its worst hate crimes in US history, just six days earlier: The deadly massacre at Pittsburgh's Tree of Life Synagogue. So this year was an exceptionally significant one for the Anti-Defamation League, the organization with a "Fighting Hate for Good" mission.
Among this year's four honorees, Richard Kasper was awarded the Al Brooks Community Leadership Award, for strengthening a "permanent source of financial support for a vibrant, enduring Jewish community." He's pictured above with ADL AZ Regional Board Chair, Donna Johnson, Corrine Brooks, and ADL AZ Regional Director, Carlos Galindo-Elvira.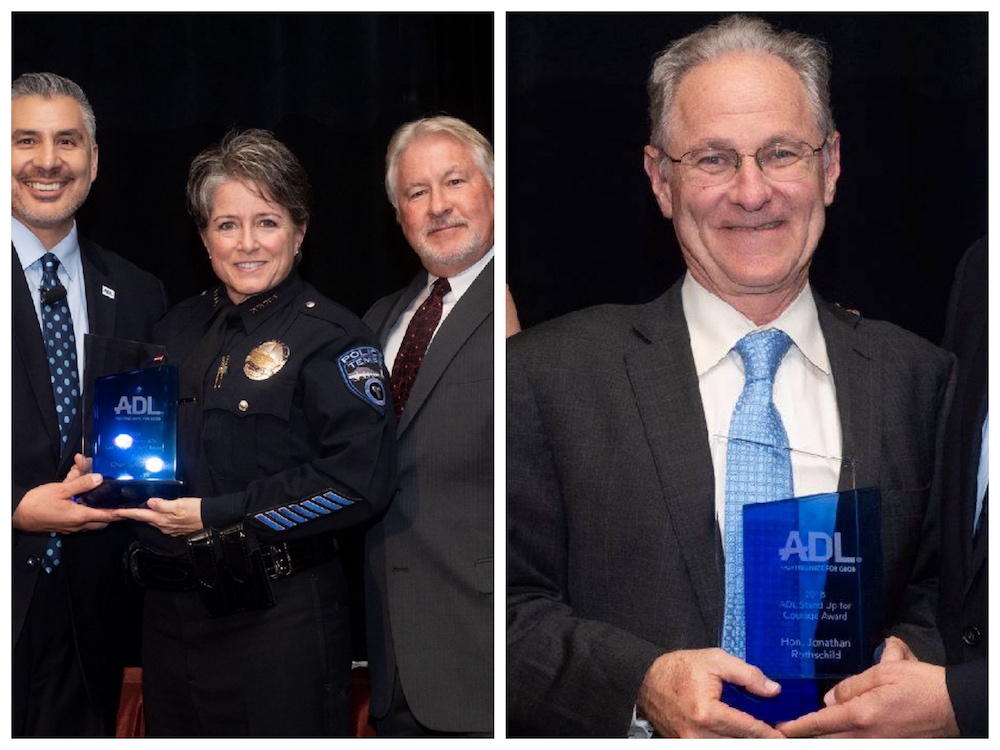 Tempe Chief of Police, Sylvia Moir received the George Weisz ADL Law Enforcement Award for her respectful and earnest approach to policing. Also, in 2017, Chief Moir participated in ADL's Advanced Training School, a course for law enforcement executives and commanders on domestic and international extremist and terrorist threats. Pictured above left with Chief Moir is George Weisz and Carlos Galindo-Elvira.
Tucson Mayor Jonathan Rothschild who is pictured above right, was honored with the Stand Up for Courage award for being an early signer of the Mayors' Compact to Combat Hate, Extremism and Bigotry post Charlottesville; his leadership in the adoption of an anti-hate ordinance in Tucson; and taking a vocal and visible presence in opposing the family separation policy.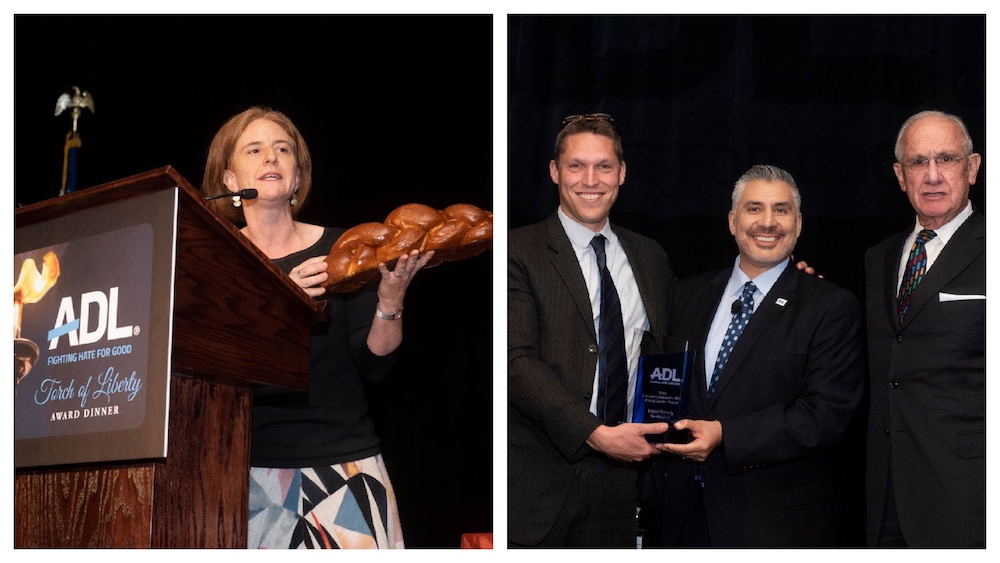 Rabbi Shmuly Yanklowitz of Valley Beit Midrash, was awarded the 2018 Herman Lewkowitz ADL Rising Leader Award. He's pictured above right with Carlos Galindo-Elvira, and Jerry Lewkowitz. Pictured above left, Rabbi Mari Chernow, of Temple Chai led the invocation with a tribute to the victims of the Tree of Life Synagogue in Pittsburgh.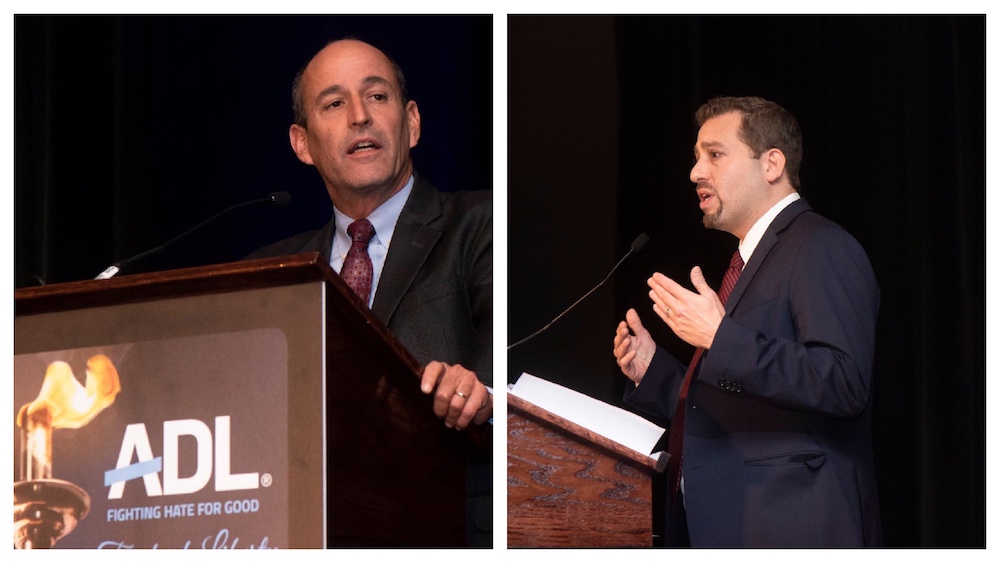 The Torch of Liberty honoree was Arizona Public Service and the event's title sponsor waas Blue Cross Blue Shield of AZ . Daniel Froetscher, Executive Vice President, Operations, of APS, pictured above left, accepted the Torch of Liberty award and shared the work of APS in supporting community initiatives and ADL .
The keynote speaker, Oren Segal, Director of ADL's Center on Extremism (COE), pictured above right, shared the valuable work of staff at the COE in investigating, analyzing, researching and strategically monitoring to expose and disrupt extremist threats—on the internet and on the ground.

Kathy Shayna Shocket is a freelance Writer, and TV- Field Producer. The former TV-Reporter has written for publications such as TIME Magazine, MONEY Magazine, PEOPLE Magazine, The Hollywood Reporter and The NEW YORK TIMES. You can reach her at redkarpetgirl@aol.com