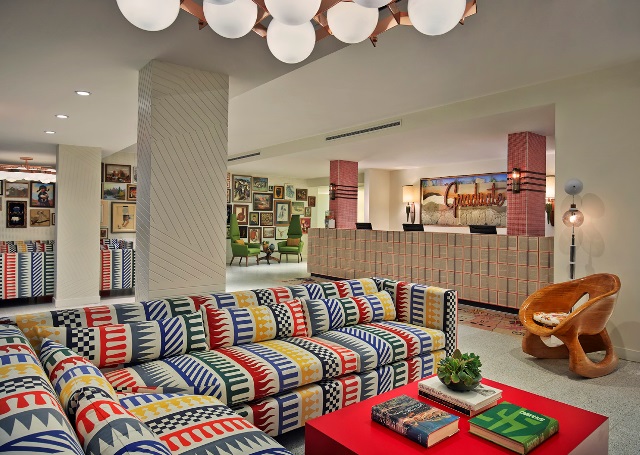 Looking to the relive the glory of your college days? Book a weekend at The Graduate Tempe for the ultimate college-town escape (with not a single essay or final in sight).
Located near Arizona State University and walking distance from Gammage, though not in direct partnership with ASU, The Graduate pays homage to the university, Arizona culture and landscaping and, in general, those fun school days.
For starters, the color-packed lobby is decked with unique artwork—found from local garage sales or donated from folks in the Tempe neighborhood—and wildly patterned furniture. Plus, in honor of ASU's science department, the custom light fixtures are intended to look like honeycomb and the reception desk is wallpapered with Charles Darwin's "On the Origin of Species."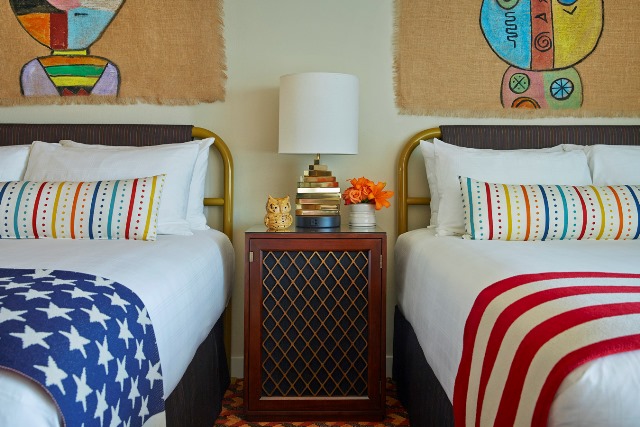 The colors and themes carry through to the guest rooms, some of which overlook Gammage and "A" mountain. The sumptuous white bedding is accented with an American flag throw blanket and postage-stamp-inspired throw pillows decked with photos of Arizona wildlife. Locally inspired artwork (including mock-ups of desert flora and fauna) covers the walls, and Mid-Century Modern furnishings fill the space. Each room is complete with a small balcony or patio for taking in the views.
Though the heated pool is prime for swimming even now, it will be a hot spot come summertime when guests can lounge on the large poolside chaises when not wading the day away. For a great view of the pool—and the surrounding area—make it up to the rooftop bar where drinks are mixed up at night (though games like foosball and corn hole are always available) and the large sofas are perfect for enjoying the weather and good friends. Plus, being a pet-friendly hotel, The Graduate also has a small grass dog run for pups to get moving just off the pool area.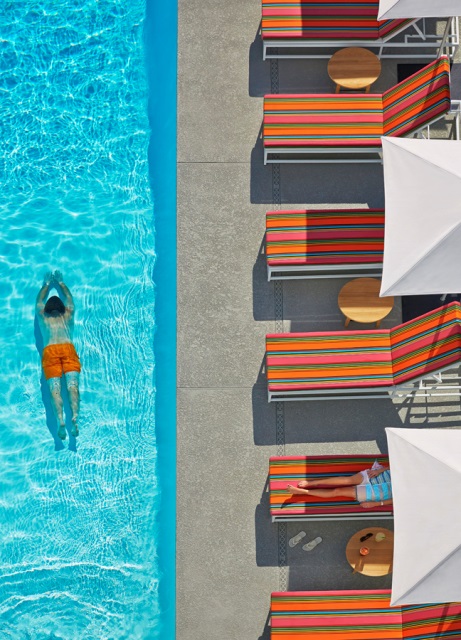 Even if you can only squeeze in a dinner or leisurely breakfast into your springtime schedule, the dining options at The Graduate offer far beyond what college students are used to noshing on (hello, ramen and mac and cheese). Tapacubo is the casual poolside cantina dishing up Mexican food and a cool car-inspired space—including margaritas that come from old-timey gas pumps and light fixtures fashioned from repurposed hubcaps. The street tacos are served up in pairs, with the shrimp and carnitas being favorites. For dessert, the jalapeno crème brûlée cheesecake is delicious with a dash of spice, with jalapenos speckling the rich cheesecake and candied jalapeno rings topping it.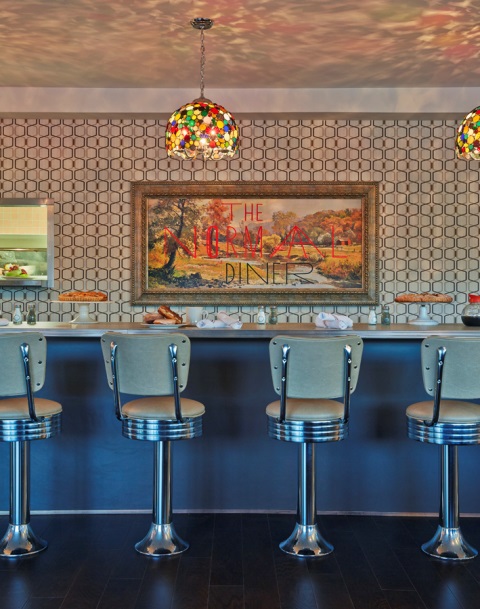 Want to feel like to you stepped inside of an Instagram feed? Book it to The Normal Diner. Formerly an IHOP, The Normal Diner has a traditional retro diner feel but bumped up a notch with cool lighting, awesome artwork (including an 8-track gallery wall and a mural of magazine cut-outs) and a fab menu. The food is just as photo-ready too, with the fried chicken paired with red velvet waffles being the star. There is even a grab-and-go adjacent café for those who just want dig into a quick doughnut and cappuccino before class. The Normal Diner also just unveiled a morning Bloody Mary and mimosa bar for a.m. imbibers.
For more on The Graduate Tempe, visit http://graduatetempe.com.
–Melissa Larsen