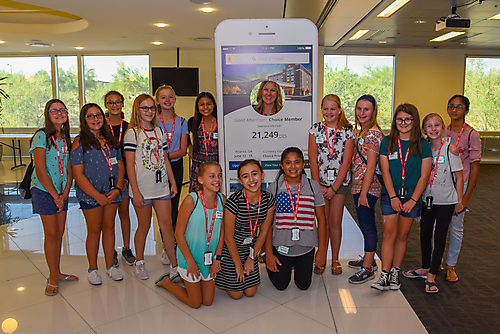 Picture information
Aug. 30, 2018. Choice Hotels' employee resource group, the Women's Business Alliance, hosted the Phoenix Women Who Code and Moxie Girls for a networking and panel event to empower aspiring computer scientists and remove gender barriers within the technology field.
The educational event connected new coders with experienced, local coding and computer science professionals, and featured expert insight into careers and leadership opportunities with Phoenix's thriving technology scene.
The networking event also celebrated the culmination of a four-day introductory Java coding course held earlier in the week targeting diverse associates at Choice. According to Patrick Cimerola, chief human resources officer, Choice Hotels, programs such as these highlight some ways businesses and local organizations can work together to both educate and promote the importance of increasing inclusion and diversity in technology.
Panelists included:


Anna Scozzafava, vice president, strategy and planning, Choice Hotels


Bargavi Ganesan, national chair for Women's Business Alliance


Sireesha Kunduri, senior director, engineering, Choice Hotels


Jenny Miller, senior director, engineering, Choice Hotels


Anna Devy, senior director, IT enterprise programs, Choice Hotels


Jill Alexander, senior director, cloud platforms, Choice Hotels


Judy Saw, director, resilience, Choice Hotels


Coding is the language of technology, and Choice Hotels, one of the world's largest hotel companies and one of Phoenix's top technology employers, wants to ensure everyone has the opportunity to join the conversation. To do this, Choice is dedicated to collectively working with the community to identify and remove barriers in a field where gender imbalance is prevalent by offering programs to inspire, empower and attract the industry's top technologists of today - and tomorrow.
Photography by Erin McDonald, Choice Hotels
abozzone@tierneyagency.com
Version 1.5 BETA 1, BUILD 20081130