Featured Chef Ben Lieberman of Talavera Restaurant, Four Seasons Scottsdale at Troon North.
AFM: Welcome to the Valley of the Sun. How is the transition going from the San Diego area to the desert?
BL: So far so good! I love it here, and I'm just about to experience my first summer. After more than a dozen years in the southern California market, I wanted to come to the Four Seasons. Executive Chef Mel Mecinas is extremely open and I knew that I would have the freedom to create and contribute my style of fresh, seasonal, modern flavors here.
AFM: What's your role at Talavera?
BL: I'm responsible for the day-to-day operation of the restaurant, including menu creation. I also have fun with "Feast," our communal-style dinners in the Chef's Table private dining room, and our monthly "Taste Talavera" series.
AFM: At age 12 you traveled to the South Pacific and that made quite an impression on you.
BL: Absolutely. I went to an island just north of Guam called Saipan. All kinds of nationalities--Hispanic, Japanese, Chinese, Filipino, American--influence the cuisine there. Everything I ate was freshly butchered, raised and caught. It made a huge impression on me and changed my way of eating, cooking and ultimately my interest in becoming a chef.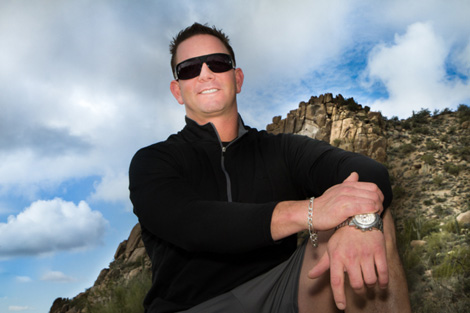 AFM: When did you know for certain that you wanted to be a chef?
BL: I knew it in high school. I cooked for everyone. In those days most people going through culinary school were in their late 20's. So I decided to get my master's degree first. I got my degree in hospitality management, with a minor in nutrition, from Long Beach State University. Then I attended Johnson & Wales University's Denver, Colorado campus to get my culinary degree.
AFM: What is currently in your refrigerator at home?
BL: Avocados, cucumbers, tomatoes, basil, wine. I buy whatever is fresh.
AFM: Which famous chef would you like to cook dinner at home with?
BL: Japanese is my favorite cuisine. So I would cook with Iron Chef Masaharu Morimoto.
AFM: Tell us about your journey leading up to being the chef at Talavera.
BL: My most recent project was re-concepting Bali Hai Restaurant in San Diego. I worked under Top Chef finalist Brian Malarkey to launch his two restaurants in San Diego, Searsucker and Burlap. The first time I worked with Chef Malarkey was at Oceanaire Seafood room in San Diego.
AFM: Give us one word that describes the atmosphere behind the scenes in the kitchen.
BL: I would have to say: orchestra. It's so chaotic but at the same time it's so finely tuned between everyone in the kitchen. When things are in perfect harmony you almost don't need to speak.
AFM: Fitness is pretty important to you.
BL: Very. I hit the gym for an hour and a half every day. On my days off I'll go hiking or play golf. I'm also in a softball league.
AFM: Tell us something funny about you.
BL: I love diversity in food yet I eat the same thing every morning! A bowl of Go Lean Crunch cereal, Greek yogurt, cottage cheese, a splash of mango juice, 2 percent milk and berries.