Marti is a seven-month-old purebred greyhound.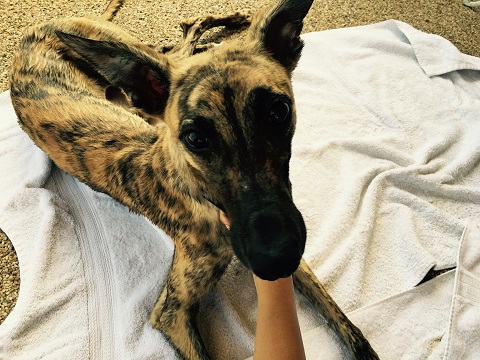 Marti is a purebred Greyhound. Her DOB is January 11, 2017, so she was 7 months on August 11, 2017.
She is kennel trained. She spends about 4 hours a day in the kennel while her foster runs errands.
Absolutely no aggression. Very docile and shy. Very good with other dogs. Marti is GREAT with kids too and very sweet. She currently lives with a Rat Terrier.
Marti has never been around a cat. Marti is housetrained, rides well in the car and loves to go for walks.
Marti loves to play with the 9 year old girl in the house, they play all day long.
She is tattooed in her ear with her official greyhound registration number.. She is from a line of show level greyhounds and AKC registered. She is gorgeous and a very sweet and gentle pup.
Marti is being given up because her family moved into a home that doesn't allow dogs her size.
Marti will be spayed before adopted. Her adoption fee is $400.
Lucky Dog Rescue is an all foster-based and all volunteer-run organization. Any money donated to us goes directly to the care of our dogs. We are a registered 501(c)3 nonprofit organization. We are always looking for new foster homes, volunteers, that share our passion. Please feel free to email us for more information on how to donate or volunteer Dee@luckydogrescue.org
Please visit our homepage to learn more about us. www.luckydogrescue.org
If you can't adopt right now, why not consider fostering a dog? Fostering dogs helps us save dogs from high-kill shelters. We provide anything monetary your foster dogs will need; you provide the love and a comfy home. For more info please email: Dee@LuckyDogRescue.org