Zeus is a five-month-old Terrier/Chihuahua mix and Simeone is a seven-year-old Husky, purebred.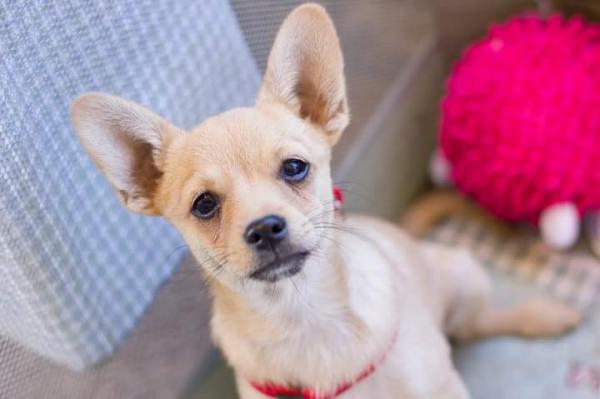 Zeus and his siblings came to us when we found their mom abandoned with all the puppies barely 2 days old. Their mom is a beautiful, very sweet Cairn Terrier which you would never know by looking at some of the puppies. The puppies were well cared of by their mom and their fosters. They grew up well socialized with other dogs, people and even cats. Zeus and his siblings are fully vaccinated , neutered/spayed and microchipped. These puppies would do best in a home with other dogs. We do not adopt puppies into home with small children under the age of 8 years. We also want to be sure someone is home or at a minimum is only gone a few hours during the day. The puppies are house trained but will still need help with other basic training.
If you are interested in meeting them please fill out an application on our homepage. The adoption fee is $350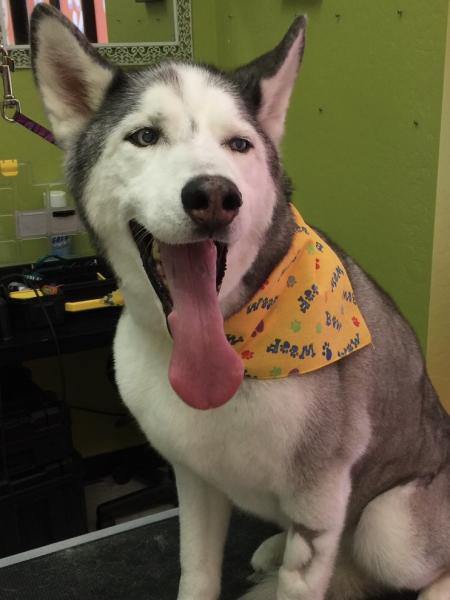 Simeone is a 7 year old male Siberian husky, weighing about 60 pounds.
Simeone is gentle giant. He loves every human he meets, and is very good with other balanced dogs. Simeone has diabetes and needs twice daily insulin injections, as well as oral thyroid supplements. The diabetes has caused sight impairment (cataracts), though he seems to not mind that at all. The cataracts are reversible with surgery.
This is the perfect companion dog for long or short gentle walks, and lots of snuggles. His foster dad has taught him to vocalize "I love you."
He is very housetrained and a perfect gentleman in the home. He gets along great with other dogs and loves people.
Like all Lucky Huskies, Simeone has been neutered, fully vaccinated, and microchipped. Simeone's adoption fee is $400. If you would like to meet this special boy, please fill out an application on our homepage.
Lucky Dog Rescue is an all foster-based and all volunteer-run organization. Any money donated to us goes directly to the care of our dogs. We are a registered 501(c)3 nonprofit organization. We are always looking for new foster homes, volunteers, that share our passion. Please feel free to email us for more information on how to donate or volunteer This e-mail address is being protected from spambots. You need JavaScript enabled to view it
Please visit our homepage to learn more about us. www.luckydogrescue.org
If you can't adopt right now, why not consider fostering a dog? Fostering dogs helps us save dogs from high-kill shelters. We provide anything monetary your foster dogs will need; you provide the love and a comfy home. For more info please email: This e-mail address is being protected from spambots. You need JavaScript enabled to view it