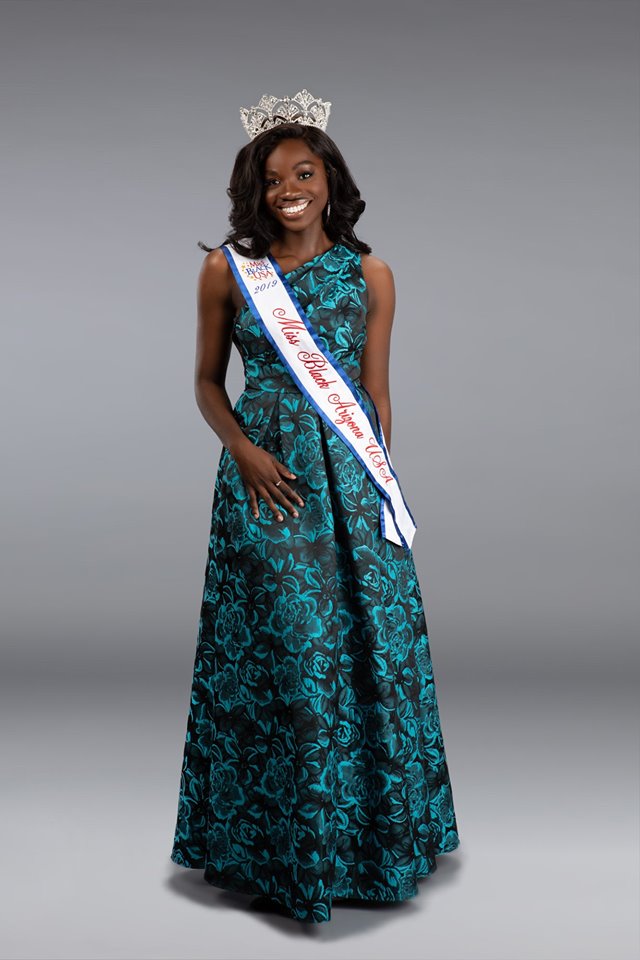 Name: Marian Omidiji
Age: Timeless
Title: Miss Black Arizona USA 2019
Married/Single: single
Kids: not yet
City you live in: Phoenix
A typical day in my life includes…
talking to my Heavenly Father and Him talking back to me (aka reading the Bible). I love to get a good workout in and then I'm headed to work. I have quite a few client meetings and afterwards I'm off to the library to Study. Study. Study!
I was born…
the middle child 🙂
My favorite thing about Arizona…
is the air quality! I lived in London for a few months and the air quality was…let's just say, I'm happy to be in Arizona.
I'm listening to…
that inner voice (aka the Holy Spirit) inside of me guiding my every step and making my paths straight.
My family…
is one of God's greatest gifts to me. I truly love them with all of my heart.
If I could have dinner with anyone, it would be…
Mellody Hobson. She exudes, effortless confidence in a male-dominated industry and I could learn so much from her.
One thing I cannot live without…
is water! Stay hydrated, people.
When I was younger, I wanted to be…
a chef or an author. My, how things have changed minus the part that cooking can be so much fun.
I'm inspired by…
action!
The one person who motivates me is…
not one person but a myriad of the many faces and personalities that I've met in my life. They all motivate me to be great.
If I could change anything in the world, it would be…
a slow metabolism! I honestly wish I could eat pizza every single day and not gain a pound.
The perfect day would be…
traveling to a beautiful island, laying out on the beach with a cold glass of water (LOL) in my hand and my man right next to me.
My first job was…
when I was 13 years old. I wanted more than the allowance my dad gave me so I asked to have my own job.
My favorite escape…
Disney World! Take me there any day and I will love you for life!
My life…
is amazing. I am grateful for every seeming setback, disappointment and roadblock; they were all instrumental in my growth. I am looking forward to the future. #NoRegrets
I'm currently working on…
a number of things! Follow me on Instagram @signedceomarian to learn more.
Always…
be prepared! You never know when an opportunity that you've been waiting for will come knocking on your door. #StayReady.
Never…
believe that you are not worthy! You are.
Favorite Quote…
"If at first you don't succeed, dust yourself off and try again." #GetBackUp #Thank YouAaliyah
Biggest Dream…
to embody the prowess, elegance, grace, communication abilities and unparalleled intellect of the four women that I look up to: Mellody Hobson (Ariel Investments), Michelle Obama (former First Lady), Sally Krawcheck (CEO of Ellevest), and Carla Harris (Vice Chairman of Morgan Stanley). My vision is to help substantially narrow the racial wealth divide. My mission is to create technology-driven solutions that will give bright, high earning minority women the tools and resources needed to amass generational wealth. I intend to be the founder and CEO of a company that focuses on finance, tech and social impact under which the following will be housed: first, a digital financial platform directly connecting high earning, millennial & Gen Z minority women to financial planners and investment resources. Second, a pop-up school event that gives brightest-potential, minority high school girls the opportunity to learn financial strategies and critical thinking in real time and third, a Venture Capital firm aimed at backing the most promising startup ideas of women, minority (African-American, Hispanic, Native American, Asian American) entrepreneurs. #ItsGonnaGetDone
My Pet Peeve(s)…
people speaking with toothpaste in their mouth.