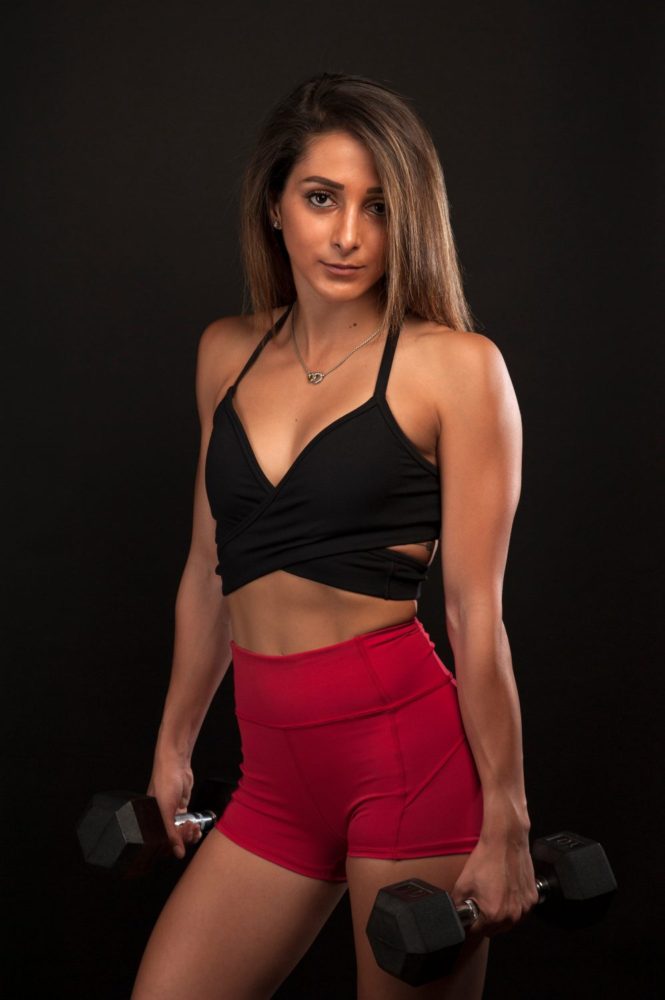 Name: Dana Homaijani
Age: 23
Title: Doctoral student in Clinical Psychology, team member of 1upnutrition and model for FS Agency
Married/Single: single
Kids: no
City you live in: Scottsdale, AZ
A typical day in my life includes…
never having the exact same routine. Usually my day starts out with my taking my puppy Mylo for a walk and then heading to class. I am in school to get my doctoral degree in clinical psychology, so a majority of my time is spent reading and studying. I work out five days a week and I also have some clients that I train. Because of how busy my days are, I am normally in bed by around 10/11pm. On the weekends, I focus on self-care and spend time with my friends in order to recuperate for the next week.
I was born…
I was born and raised in Malvern, Pennsylvania.
My favorite thing about Arizona…
are the beautiful sunsets. The skies in Arizona are unlike anywhere else.
I'm listening to…
a little bit of everything. I generally listen to hip hop, pop and country but I honestly will listen to anything, depending on what kind of mood I am in.
My family…
is everything to me. I have the two most loving, giving and patient parents I could ever ask for. I have a younger brother, who I consider my best friend. My family is my entire support system and I would not be the person I am today without them.
 If I could have dinner with anyone, it would be…
sixteen year old me. I would go back and have dinner with my teenage self and tell her everything I know now. I didn't have the best high school experience and knowing what I know now, I do not think I would have let it affect me so badly. I think high school is such a rough time for so many girls and that is my main reason for wanting to be a clinical adolescent psychologist, helping adolescents struggling during this time.
One thing I cannot live without…
my puppy Mylo ;')
When I was younger, I wanted to be…
a teacher. I've always wanted to work with adolescents.
I'm inspired by…
kind individuals who actually want to help one another. It's really refreshing to see people lift each other up instead of putting them down!
The one person who motivates me is…
both of my parents. They emigrated here from Iran and started a life in America. My parents own a business they started from scratch themselves and they have shown me that with hard work, absolutely anything is possible. Both of my parents have done everything in their power to provide everything they can for my younger brother and I.
If I could change anything in the world, it would be…
to stop all the hate. I know it sounds so cliché, but there is so much hatred and negativity in the world. I wish everyone could come together and stop the violence happening around the world.
The perfect day would be…
relaxing by a beach somewhere.
My first job was…
working as a sales associate at Justice Just for Girls.
My favorite escape…
is going to the gym. The gym has helped me gain control over my anxiety. Once I walk into the gym, nothing else matters. I am able to let go and put everything into my workout.
My life…
is exactly how it's supposed to be. I am such a strong believer that everything happens for a reason. Everything that has happened thus far in my life has made me the person I am today and I wouldn't change a thing.
I'm currently working on…
getting my doctoral degree in clinical psychology, getting my personal training certification and starting my fitness business.
Always…
tell the people in your life how important they are to you and how much you love them.
Never…
give up. Giving up means accepting a lifetime of wondering what could have happened if you just believed in yourself enough to follow through.
Favorite Quote…
"Everything that is happening right now is happening for a reason. Things aren't always going to look pretty, or feel comfortable, or even seem necessary. Just have enough faith not to quit, understand that things workout how and when they're supposed to. Use everything that happens to you and around you as tools to help build you, the good and the bad. Don't allow temporary circumstances to cloud your vision. Realize that the testing of your faith is to produce patience, and the power in patience gives us the will to persevere, and that will promises us not just success, but peace and joy. Don't run from the struggle, it's there to make you stronger. Don't be moved by fear, your faith can take you beyond it."
Biggest Dream…
is to promote mental health and fitness. I want young girls to one day look up to me and say she's the reason I started my fitness journey. I want to influence and make a difference in people's lives.
My Pet Peeve(s)…
I cannot stand lies. I think it is so important to be honest about your intentions with everything. I respect people who tell the truth no matter the consequences or how hard it is.