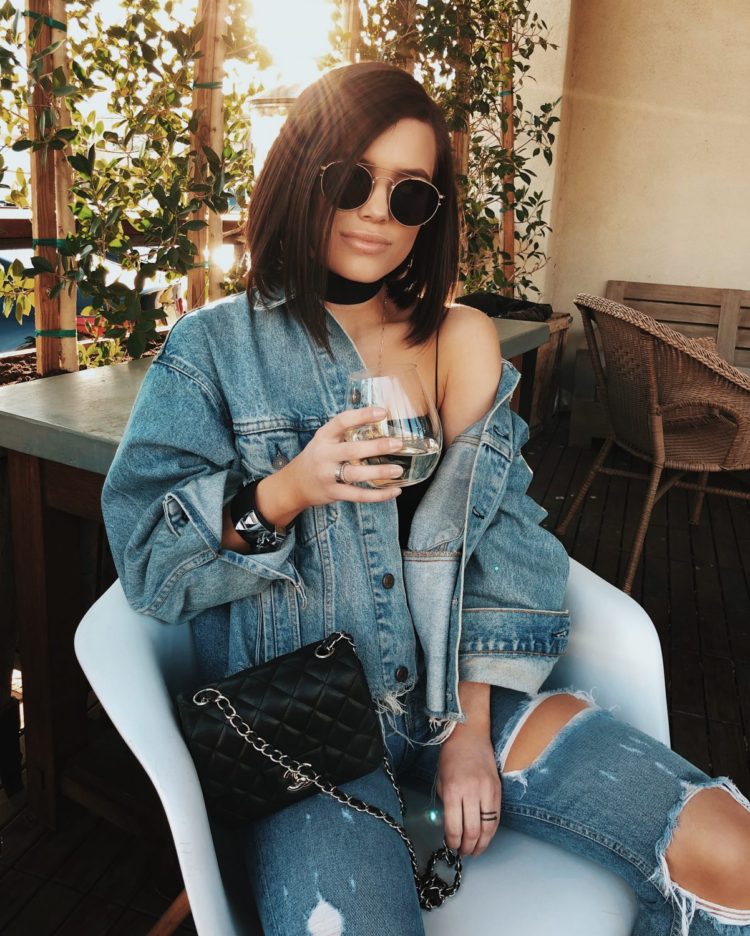 Name: Alexa McCall
Age: 23
Title: Fashion & Makeup Influencer
Married/Single: in a relationship with my boyfriend of 5 years.
Kids: Cooper Murray, my mini Goldendoodle.
City you live in: Old Town Scottsdale
A typical day in my life includes…
I take Cooper out first thing when I wake up. Then I grab a Starbucks iced coffee and head to work. I work for one of the top plastic surgeons in Arizona. I feel extremely blessed being able to work amongst some of the most knowledgeable people in the cosmetic/plastics field because it has always been something I have been interested in and very passionate about. After a long day of work I try to get a quick workout in at the Gainey Village. Then I head home and my boyfriend always has a new hole in the wall restaurant he wants to try with me, we are HUGE foodies.
I was born…
born and raised in Scottsdale, AZ. I never travel out of my 20 mile radius.
My favorite thing about Arizona…
literally EVERYTHING. I have traveled a lot of places and there is nothing comparable to Arizona. You can ask anyone I know, I'm the number one advocate for Scottsdale, lol.
I'm listening to…
anything rap. Mostly Kanye.
My family…
I'm lucky enough to have 3 families. My family, who will always love and support me no matter what. My boyfriends family, who are the funniest people and the reason I have a new found love for food. My work family, they are forced to be around me more than my other two families, lol.
If I could have dinner with anyone, it would be…
Karl Lagerfeld, Anna Wintour or Kanye West.
One thing I cannot live without…
a good pair of shoes.
When I was younger, I wanted to be…
a surgeon. I loved watching ER and House as a kid. I was never and still am not grossed out by anything.
I'm inspired by…
everyone close to me. I am inspired daily by my mom who is extremely personable and social; my dad who is smartest person I know; my sister who is so artistically gifted; my boyfriend who is loyal, kind hearted and logical; and my boyfriends mom who is the ultimate fashionista.
The one person who motivates me is…
my boyfriend or my mom. They both assure me I have the ability to do anything if I put my heart and mind towards it.
If I could change anything in the world, it would be…
the fact that there still isn't a way to be able to know what your dog is thinking.
The perfect day would be…
Saturday (in spring preferably). Going to Berdenas in the morning with my best friend and getting a honey lavender oat milk latte. Shopping at my favorite clothing boutique, Stephanies. Then going vintage furniture shopping on 7th Avenue. Ending the day with Hillstone french dip and a glass of Lola pinot noir and binge watching the Kardashians. No shame.
My first job was…
working at my moms clothing boutique.
My favorite escape…
my favorite time of day is when I'm doing my makeup. It's the only time I feel alone and at peace doing something I genuinely love doing. I also love doing other peoples makeup as well. Makeup is fun because you can try a million different looks and nothing is permanent.
My life…
is amazing. I'm blessed that I get to be surrounded by people who consistently motivate me and make me laugh.
I'm currently working on…
always working on decorating my apartment and adding new pieces to my closet.
Always…
accessorize your outfit.
Never…
have a bad haircut.
Favorite Quote…
"If you can't be better than your competition just dress better."- Anna Wintour
Biggest Dream…
own my own clothing company or do something with interior design. I like to think i'm artistically creative.
My Pet Peeve(s)…
when people don't follow through with plans.
Click here to order a Trendsetters reprint.