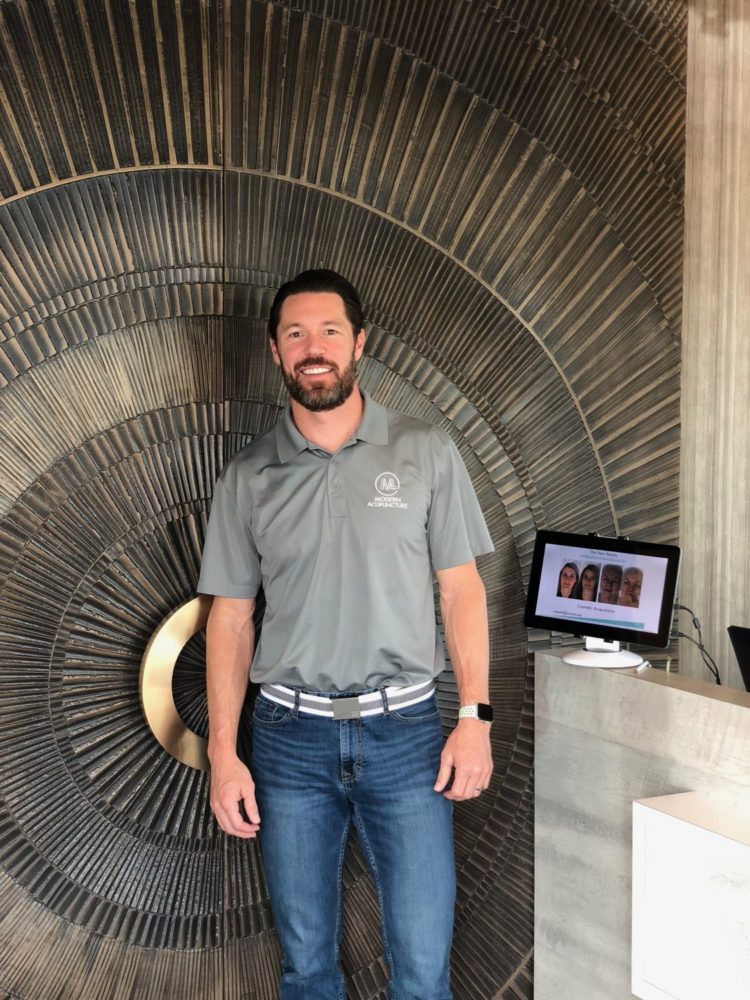 Name: Dr. Kris Birkeland
Age: 38 years young
Title: Owner and franchisee of Modern Acupuncture Arcadia and 16th/Camelback.
Married/Single: Married 10 years to my best friend and partner, Coltlee Birkeland.
Kids: 5-year-old, Sophie, who is fire and passion and 2-year-old, Jake, who is cool as a cucumber.
City you live in: North Central Corridor in Phoenix.
A typical day in my life includes… 
routine. Mr. Mom in the morning until handing off the kids, grind hard at work to be a strong leader and support to my team, crush a CrossFIT workout to the point of questioning my life, have a swim, walk, bike ride or mess around in front yard (pushing to get #frontyardlife trending) with my family (depending on season in Phoenix), give a bath to the kids, read some kids books, top off the day with some more work, sleep, wake up and repeat.
I was born in… 
New Rockford, North Dakota. Small town in a small state but a GREAT place to be from.
My favorite thing about Arizona…
is the variety. People always mention the heat but this state has so much to offer from urban to rural, hot to cool, cosmopolitan to quaint. We enjoy exploring the state in our little trailer camper and cruising our neighborhood on bikes. Get outside!
I'm listening to…
Chris Stapleton. My iTunes is wide ranging, moving from The Beatles to Wu-Tang to Beethoven on shuffle. However, Chris Stapleton is like if Muddy Waters met Johnny Cash and they had a baby, and then that baby met a baby by Bob Dylan and all of Lynyrd Sknyrd. Those babies had a baby and it was still cool enough to do a song with Justin Timberlake.
My family…
is everything. There is not one decision or thought I have that does not get weighed against my love and responsibility to my family. That's not hokey, that's just straight up true.
If I could have dinner with anyone…
(other than my wife or member of my family plus dead or alive), it would be Robert F. Kennedy. He was going to be a transcended person in our country who understood politics but also saw the social issues that still plague our country today. To me, the era he lived in was the most fascinating time in our history and he was a figure who transcended the matters of the day, Civil Rights, Vietnam, Social Protest and others.
One thing I cannot live without…
is music. I love having music on whether it is in the forefront of the experience or just in the background of something – I believe it enriches a moment. I used to do hellishly long mountain bike races and a decade plus later I can hear a song and remember being eight hours in on a bike, lonely and wondering why I voluntarily did this but that song is what brings me to that memory and frames it as positive!
When I was younger, I wanted to be…
a baseball player. This was my only dream job. Everything else just seemed like work. It's clear why I have brought so many of those lessons and experiences of sports to my career and leadership approach.
I'm inspired by…
growth. Personal growth, professional growth, business growth, emotional growth. I just enjoy building or progressing. Staying same or maintaining is boring. I suck at tasks and need challenges that require finding and executing unique solutions.
The one person who motivates me is…
my mom. Sorry Dad! My mother is THE strongest, kindest, most thoughtful and driven person I have ever seen in this world. I'll sum it up by saying she once cut off the tip of her finger while trimming a bush with gas trimmer, bandaged it back on, finished the job then made dinner – not to say she probably did something kind for someone afterwards. Hard as nails and as caring as saint.
If I could change anything in the world, it would be…
the way most people treat others. There are a million problems and conflicts in our world but if the Golden Rule was hardwired and had no jailbreak code then it would solve a significant amount.
The perfect day would be…
waking up on West Lake McDonald to pure glass on the water, diving off the dock to get a fresh start to the day, having a cup of coffee on the deck as the kids slowly wake up. Lazily spending the day from biking, boating, lounging, bocci balling, mowing a little grass to the get the fresh cut smell, grilling at 7 p.m. with three hours of sunlight left, pontoon ride at sunset, drink a couple of beers in the garage while visiting with family and music in the background.
My first job was…
cleaning machines at L.A. Fitness. Yuck. Let's not talk about that anymore.
My favorite escape…
is yard work. Headphones on. Mowing, trimming, blowing, you name it. There is so much thoughtful time in doing yardwork and the whole time there is progression towards the final improved product. Once you're finished, you can stand back and savor that your hard work created.
My life is…
a blessing. I work hard, I try to be the best person I can be, I'm considerate to others, treat people the way they want to be treated and take nothing for granted.
I'm currently working on…
less Netflix and more reading. The books I want to read are piling up faster than the books I can read.
Always be…
honest. Honesty and integrity are the foundations of being a good person in my mind.
Never…
miss a chance to tell or show someone you love them. A close second is something my Uncle Bob once told me and it's pretty important growing up in North Dakota. Never pee in to the wind.
Favorite Quote…
"I've learned that people will forget what you said, people will forget what you did, but people will never forget how you made them feel." -Maya Angelou
Biggest Dream…
is to go back to the 1998 State Championship baseball game. I'd not get slightly under that fat hanging curve ball thrown to me in extra innings. Had I hit it right, we would have won the game.
My Pet Peeve…
is when people are standing at cash register after having all their items wrung up and THEN they realize they have to pay and dig out their wallet. What did you think was going to happen next? You just leave. I've calculated that if everyone was prepared to pay at the moment it's their turn to complete the transaction there would never be a line in any grocery store across America.
Click here to order a Trendsetters reprint.