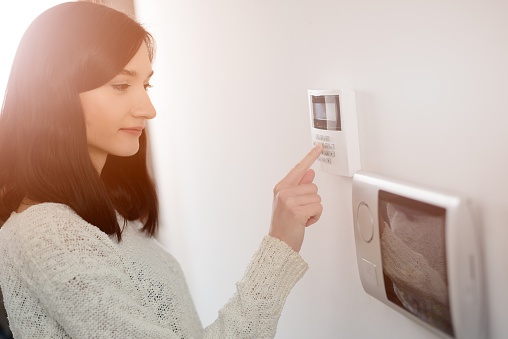 Anyone who's owned a home before will agree that you go into that first purchase with rose-colored glasses. No matter how many shows you watch on HGTV it doesn't quite prepare you for the responsibilities of homeownership.
A lot goes into protecting a home and the people that live in it. You also have to protect the investment you've made in the home. Below are some of the biggest responsibilities a homeowner takes on once they sign the deed and how to prepare for the road ahead.
Maintenance and Repair
Not all fixes and repairs are a result of a catastrophic event or major remodel. Small things here and there add up over time. The older the home and its major systems are the more repairs you can expect to make. Check out these five suggestions for annual home maintenance.
Beefing Up Your Home Security
About 2.2 million homes are burglarized each year. It can happen in any neighborhood at any time. Homeowners that get proactive on home security dramatically lower their chances of being a victim.
Comprehensive Monitored System
The best thing a homeowner can do to minimize their risk is to install a home security system. Reports show burglars are three times less likely to break into a home with a system in place.
Tech innovators like Black Hat Security are making affordable systems that include an array of the latest equipment. Each piece syncs with the other to create a smart, comprehensive system. You can monitor your home with the custom app or let the system alert a monitoring center for you.
Secure Your Doors and Windows
Doors and windows are the primary sources of entry into a home for anyone, including a burglar. Not only should they be locked, you have to make sure they have the best type of lock possible. For doors to the exterior that means installing an ANSI Grade I deadbolt lock that's reinforced with a metal strike plate. Adding motion sensors to doors and windows is also a good way to monitor activity.
Exterior Protection
The goal of home security is to prevent someone from entering your house. To do that security measures have to be taken around the exterior. Garage doors and fence doors should have a deadbolt lock, use motion detector lights around entries and use a tamper-proof bulb for the front porch light.
Improve Fire Safety
The only threat more concerning than burglary is a house fire. The National Fire Protection Association reports there are over 358,000 house fires every year. On average those fires cause more than 2,500 deaths, over 12,700 injuries and $6.7 billion in direct damage.
Invest in a Smart Smoke Alarm
Smart smoke alarms don't just sound an alarm when they sense smoke. They can also alert you via an app if smoke or carbon dioxide is detected
Have the Right Type of Extinguisher
Many people don't realize there are different types of extinguishers that are made for different types of fires. Every home should have an A-B-C or a B-C extinguisher in the kitchen, which is where the majority of home fires originate.
Have a Plan
Every family should discuss fire safety and come up with various escape plans depending on where the fire is located.
Handling Natural Disasters
Most areas of the U.S. have the potential for some sort of natural disaster whether be it a tornado, hurricane or earthquake. In recent years the number of super storms and natural disasters has increased. They can strike with little notice so preparation is key. Things to consider include:
Getting a backup generator
Installing storm shutters
Keeping a first aid kit in your house and car
Making pre-planned evacuation routes
Set Up an Insurance Safety Net
A good home insurance plan can cover you in all the situations above. It's a safety net that protects you finally should the worst happen. An insurance policy will cover most of the cost to repair your home and replace items, but plan on paying a little out of pocket. Most insurance plans don't cover every single thing and there will be a deductible to pay. Today, the home insurance deductible amount is typically one percent of the insured value.