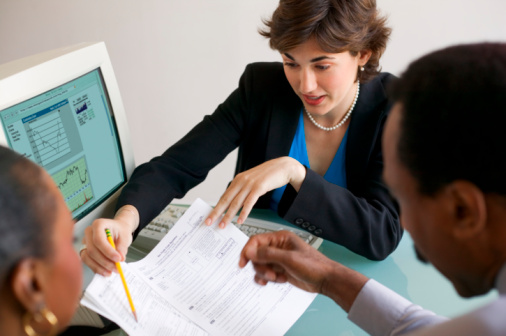 Do you have great customer service or sales experience and want to enter a progressive industry? If so, the real estate industry might be just the excitement you're looking for. As the housing market continues to bounce back and new programs are developed for interested home buyers, there is no time like the present to capitalize on this career choice. While you may not want to start off as a real estate agent, one way to get wet behind the ears would be to consider a career as a mortgage loan officer.
What is a Mortgage Loan Officer?
A mortgage loan officer is a representative that works with real estate firms, financial institutions, and mortgage companies such as Eagle Home Mortgage. Their role is to reach out to interested parties and help them in selecting and applying for mortgages with your employer. While the bulk of your salary will be based on commission, there are some institutions that offer a base salary. The more mortgages you're able to sell, the better it is for your employer and your wallet.
Learning the Industry
If you're new to real estate, in general, you'll want to get some formal education so that you're not jumping into the career completely blind. The best way to obtain some foundational knowledge in the real estate industry would be to take some courses. There are plenty of online courses that you could invest in that will give you a general understanding of the housing market, mortgages, the processing of mortgages, and other pertinent information to become a successful mortgage loan officer.
The great thing about entering into this career field is that it does not require you to have extensive degrees, certifications, or licenses, and many times your employer will help you obtain any qualifications you need to get started. So learning some basics will essentially make you more attractive to employers.
Find the Right Company
Being a good mortgage loan officer will not only depend upon your skills and ability to turn leads into sales, it will depend on the support and reputation of the company you're working for. As you're looking for the best financial institution to work for, be sure that you do your homework on the company. You want to work for an employer that will offer varying levels of commission, training, marketing support, and more. Here are some questions you might ask during an interview:
· Does your firm supply leads are am I required to do my own marketing?
· How many leads per week will you receive and/or are you required to generate?
· Is the job 100 percent commission? If so, who is responsible for the payment of Social Security and income tax?
· How much are the fees per loan?
· What hours are you expected to work?
· How long have they been in business?
· What types of loan products and programs does the company offer consumers?
Working Hard is a Must
While becoming a loan mortgage officer can be a very rewarding career it does not come easily. You will have to work diligently to sell mortgages to interested home buyers. It will require a great deal of customer service experience, organization, follow-up, and commitment. Since the amount you make in most instances will depend upon the amount of leads you generate, the more effort you put into this career, the more beneficial it will be to you economically.
What's great about starting off in the real estate market as a mortgage loan officer is that this position can essentially open the doors for other opportunities later. Once you've gotten the hang of the loan process you can move on to become a realtor, broker, underwriter, or whatever else you deem interesting in the real estate industry. Remember, to get your foot in the door you'll need to learn some basic knowledge, find an employer who provides a good foundation, and put in some serious elbow grease to get things moving.