The chances are if you're able to work at home, you'll want to have the nicest possible office space. Studies indicate the size of a home office is 151 square feet. This may motivate you to work a bit more and increase your overall income. However, one thing that may be holding you back when it comes to decorating this area is being on a strict budget. You can make major changes without breaking the bank if you only know what to do. Being fully aware of how to make the most of your office space with the money you have is sure to be the ideal places to start.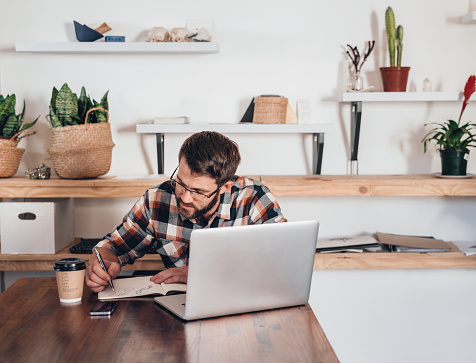 Tip #1: Shop for laptops
Being able to have the right equipment in your home office is sure to be one of the things that are high on your list of priorities. This will enable you to get your work done and to enjoy the remainder of the day when possible.
You will want to Find the best deals on laptops around to enable you to log in and see what is happening around the world. This can also allow you to get your work done each day and this is exactly what you'll need to do.
Be sure to have an amount in mind before going to look for this electronic item because there are all types of prices. The main thing you will want to do is consider what you can afford and then go shopping for it today.
Tip #2: Consider new furniture
You may be sitting in the same old chair that practically gives you back pain or using a desk that is falling apart. These are things that will need to be replaced, and when doing so, you're sure to get much more work done in the process.
Taking time to look around at various office furniture will pay off for you in a couple of ways. First off, you'll be more comfortable in your working area, and this can, in fact, increase your production.
Another reason that you may strongly want to consider updating your office furniture is that doing so will allow you to take a tax deduction. This is an idea when it comes to helping you save money and having to pay less in taxes annually.
However, don't neglect to get a receipt for any all office furniture you get and give this to your tax preparer. This can allow you to prove you bought these items if there is every question that is asked to you about this purchase.
Tip #3: Go shopping
One thing that may rob you of being creative or wanting actually to work is having the same old décor around for years. This is the last thing you may want to do because you can find that you really don't want to work.
Be sure to make a list and visit thrift stores or even flea markets to pick up some nice things for your office space. You can typically get these for a bargain, and you'll be glad you did when the entire room is coming together as it should be.
Tip #4: Get help from friends
If you a group of friends that are artsy or creative, this would be a great time to get together and talk about the things you want to accomplish for your office. In fact, if you have a friend that paints or makes other crafts, you may want to use these in your office space to make it look more attractive.
The more assistance you can on this project, the better and the good news is that your friends may not charge you a thing. You could treat these individuals to a nice lunch to show your appreciation.
Taking time to make your living space look as great as possible is well worth the investment. You can enjoy this space for years, and you may find it's what truly keeps you motivated to get your work done throughout the day. Invest in your home office today, and you'll be able to see your hard work pay off at a later time!