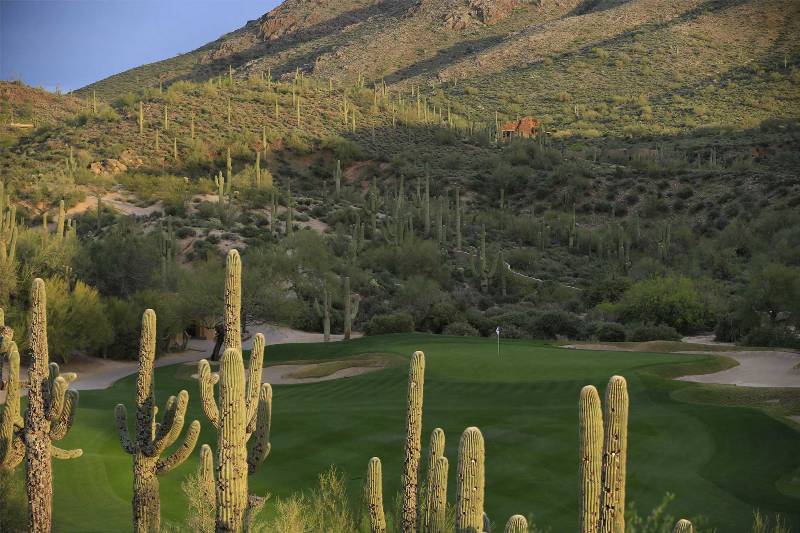 Troon Country Club's Jay Morrish and Tom Weiskopf-designed golf course is currently undergoing a $4.6 million renovation, set to be complete by Dec. 1. Weiskopf and design consultant Phil Smith are overseeing the project, which kicked off April 20, while Heritage Links golf course construction company is the contractor. Troon Country Club opened for play in 1986 and has largely remained unchanged.
Per the press release, all greens will be resurfaced with A4 bentgrass, all tees will be leveled, and several new forward tees added during the renovation. Tee boxes, fairways and rough will be re-grassed with TifWay 419 bermudagrass. Bunkers will be modified (some eliminated), reshaped and rebuilt incorporating a technically advanced drainage and liner system featuring Capillary Concrete. This new generation lining method increases the speed at which water flows through the bunker; minimizing washouts, reducing maintenance and producing superior playability. The new bunkers will be filled with Caltega bunker sand and are expected to last for many years to come. The Club's irrigation system will also be updated, including all new high density polyethylene mainline and lateral piping; new Rainbird IC system sprinkler heads with central control; and a new WaterTronics pump station. The ultra-efficient irrigation system allows crews to individually control each sprinkler head on the golf course assisting in the club's water conservation efforts.
Weiskopf and Smith are also making design modifications to enhance playability, accentuate site lines and assist in course maintenance. All irrigation system, bunker and re-grassing work will be complete by early August and greens will be seeded by Labor Day.