Yoga does more than burn calories and tone muscles. It's a total mind-body practice that combines strengthening and stretching poses with controlled deep breathing and meditation or relaxation that builds a strong core and a lean body. The Village Clubs offer many different types of yoga classes and we've detailed out a few below.
New to Yoga
The beginner's classes like Basics Yoga, Yoga 101 and Intro to Yoga, offer the "how to's" of yoga techniques, including yogic breathing, hand/foot placement, and how to intensify the poses with different options for every level practitioner in a slower, more deliberate, informational format.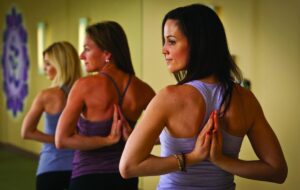 Go with the Flow
Basic Flow Yoga, Flow Yoga levels I, II & III, Slow Flow, Get Up & Flow, and Heated Flow Yoga classes are all Vinyasa Flow Yoga, or yoga that focuses on uniting movement with the breath.
Power it Up
Power Yoga adds a dynamic intensity level to a basic or flow yoga class. At the teacher's discretion, these classes can be built around more advanced target poses that move into a deeper physical and strength level, with some fun but challenging arm balances or twist variations with more advanced options.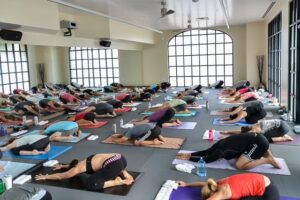 Turn the Heat Up
Yoga is known to help us detoxify, and HOT yoga takes that detoxification to the next level. You will sweat in Village Hot Yoga, Heated Flow or a Heated Sculpt class. We have our own set series  of yoga poses done at every hot yoga class and they're offered at 3 of our 4 locations.
Let's Specialize
Specialty formats like Therapeutic Yoga, Healthy Backs, Gentle Yoga with Aromatherapy, Yoga for Stiff People, Good Morning Yoga Stretch, and Ashtanga Yoga are available to all levels of practitioners.
Time to Relax
Yoga Nidra, Restorative Yoga, Yin Yoga, Deep Stretch, and Meditation all offer the yoga practice's most well-known benefits – mental and physical relaxation.
No matter what you're looking for in your yoga practice, if you're just starting out or taking your 20-year practice to a new level, the Village Clubs offer a robust yoga program full of a variety of classes to stretch you mentally and physically.
You can try all of these yoga classes and more at the Village – learn about our yoga classes and view our schedule on our website.