Television personality and AZfoothills.com columnist Nadine Toren is scouring the area, finding savvy Valley features, bringing readers "on the scene." Every day she'll introduce you to celebrities, athletes, and give you an inside look into local events and hot spots. She'll touch on topical issues, and keep AZ fans posted on all the big talkers around town.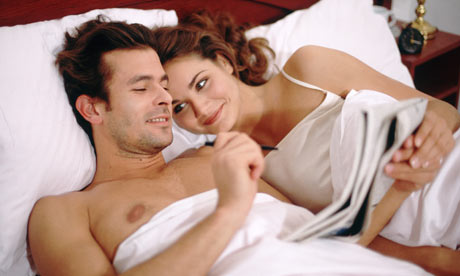 Want to kick things up in the bedroom?  Well, a Valley hot-spot is here to help...
If you're in the market for exclusive intimacy enhancing merchandise, head to Fascinations.  The Chandler-based company launched the adult toy shop more than 20 years ago, and now operates 16 stores throughout Arizona, Colorado, and Oregon.
"We offer couples and individuals an enjoyable, upscale, and comfortable atmosphere where they can shop and learn about bettering their sex life," said Shanna Katz, Resident Sexuality Educator for Fascinations.
Shanna Katz is a certified sexologist, spending her days training Fascination staff on sex-related stuff. The company takes pride in sex-education so their retailers can give shoppers intelligent insight.
"Sex is a positive thing, and we want our customers to grasp new ways to reclaim their sex life," said Katz.
Every month the company offers two free sex-related seminars scattered around the Valley discussing hot topics when it comes to doing the dirty.  An issue they tend to often revisit is ways to kick it up in the bedroom—taking things from dull to delightful.
"All relationships become routine; that's how we effectively operate.  However, couples cannot let their sex life slip from the priority list."
Katz says sex is a major way couples keep closely connected—it's also a stress reliever and good workout.  That's why she says it's essential to continually reinvent your sexual relationship—that includes the act itself, in addition to affectionate cuddling, make-out sessions, and sensual massages.
The first step to jump-starting your sex life is taking individual time to think about what you want and need.  According to Katz, society tells us what sex should look like, but truly, it's different for every person.  Katz says once you establish your personal desires, you should effectively communicate them to your partner.
"Communication is really difficult for a lot of couples, but it's the key to good sex."
She says a long, drawn-out talk about ways to "improve" getting it on is completely unnecessary—that can come across as hurtful and insulting.  Instead, she suggests leaving little "meet me in the shower-type" sticky notes around the house, and sending sexy, sporadic texts and e-mails to your loved one.
"It doesn't necessarily have to be a face-to-face conversation; it doesn't have to be the Magna Carta."
Katz also says there's nothing wrong with getting tastefully kinky.  She suggests toy shopping with your partner and introducing non-invasive, easy to use external stimulators into your relationship.
"If you don't want to go in store, you and always go online."
And if you find it tough to squeeze in naked down-time, Katz says there's nothing wrong with scheduling sex.  In fact, it actually gives couples something to look forward to; for example, a Sunday afternoon solely for sexy time.
"Make sure you talk about what turns you on."
Katz's final two cents: remember there's no right way to have sex.  Figure out what feels good to you, and just do it.
For more information, visit www.funlove.com