Children's Museum of Phoenix is celebrating Native American Heritage Month with fun learning activities centered around Native American identity throughout November.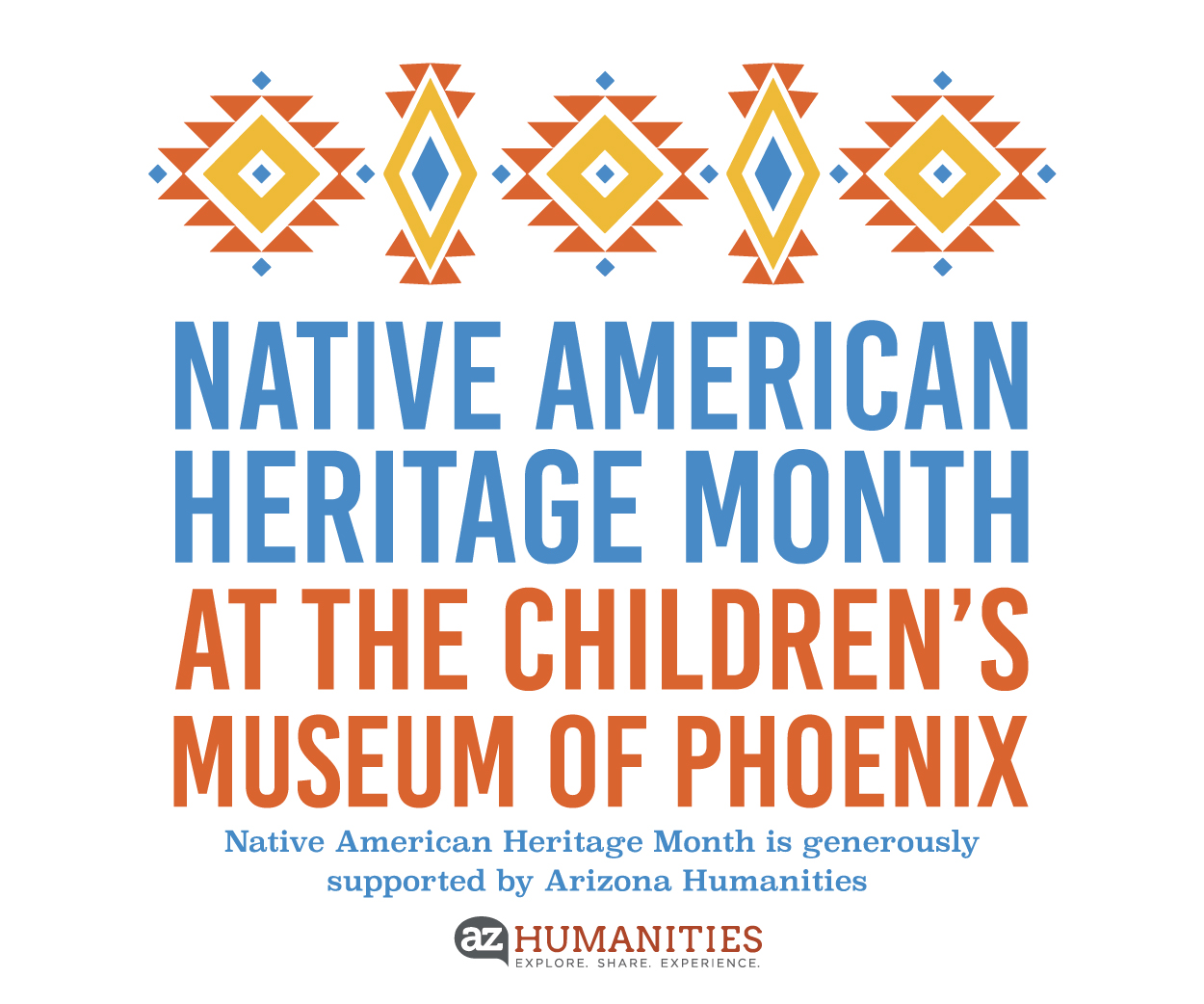 Generously supported by Arizona Humanities, the month-long program will promote opportunities to learn about and celebrate indigenous cultures and tribes, and discover the ways different groups enrich our Phoenix community through engaging activities such as cooking, dancing, singing, literacy and art programming, which will feature local artists, musicians and chefs.
The Native American Heritage Month calendar events include:
November 4–29: Art Exhibition
Throughout the month-long celebration, visitors will be able to view the artwork of versatile artist Damian Jim, who uses acrylics, spray paints, paint pens, ink and digital art to create abstract and figurative art influenced by Diné (Navajo) mythology; and artist John H. Rodriguez who utilizes acrylic paints, pencils, pen, ink and gourds as canvases, and currently devotes his energy into painting portraits and paintings relating to both Mexican and Native American themes.
November 1–6: Stars for the Sky
Children will get to create their very own star for the sky inspired by the Navajo folktale, "How the Stars Fell Into the Sky" by Jerrie Oughton.
November 4 (During First Free Friday Night): The Etsitty Group: Pow Wow Dancing
Enjoy some traditional Pow Wow dancing from the Etsitty Group in honor of Native American Heritage Month during November's Free First Friday Night from 6 p.m. to 7 p.m. First Free Friday Nights at the Museum are generously sponsored by the Gila River Indian Community.
November 15–20: Illuminating Impressions
Create your own artwork in the impressive style of local Native American artist, illustrator, writer and educator Shonto Begay.
November 17: Blue Corn Mush
Learn how to make traditional and delicious Navajo Blue Corn Mush from Valence Hatathlie of Val's Fry Bread at 10 a.m. and 12:45 p.m.
November 18 (During Members-Only Night): Performance with Master Guitarist Gabriel Ayala
Performance starts at 5 pm. Free admission for all members during members-only night on Friday, November 18. Seating is limited.
November 19: HOPI R2 Presentation
Learn about the building process and creation of HOPI-R2, the first indigenous droid built by electrical engineer Joe Mastroianni and painted in the style of Hopi pottery by Hopi-Tewa artist Duane Koyawena. In addition to Mastroianni and Koyawena's presentation, Samantha Honanie additionally shares more about what inspired the progress as well as the Museum of Northern Arizona publication that features HOPI R2 and other artwork from the exhibition, The Force Is With Our People. HOPI-R2 is a great example of how science, technology and art can come together. Seating is limited.
November 26: The Etsitty Group: Pow Wow Dancing
Come and enjoy some traditional Pow Wow dancing from the Etsitty Group in the museum's atrium space.
November 27: Duncan Family Dance & Storytelling Performance
Experience traditional dancing and trickster stories beginning at 11 a.m. Seating is limited.
November 29–December 2: Colorful Fragmented Forms
Be inspired by influential Inuit artist Jessie Oonark's bold shapes, forms and graphics while you create your own eye-catching images on colorful backgrounds.
Admission into the Native American Heritage Month programs are included with a paid Museum admission of $16 per person. Click here for more information.