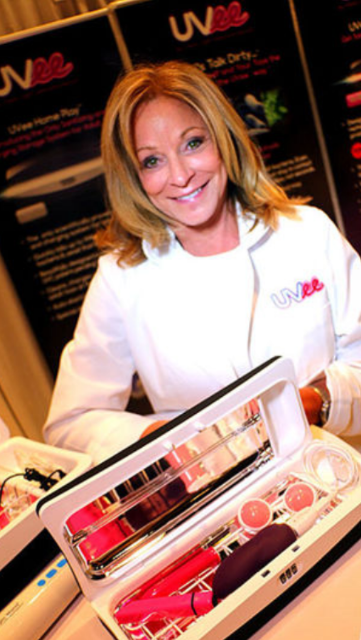 Carrie Martz spent a lifetime in the Valley building one of the most well-known and respected advertising and public relations agencies in the Southwest.  She was known equally for her award-winning campaigns, commitment to community, and her many accolades for her achievement as a women business leader and philanthropist. A year and a half after selling the Martz Agency to Bob Parson, founder of GoDaddy, she retired.  Not for long – she soon started a new venture with her daughter, Brooke O'Connor, called Clean Light Laboratories which has designed and developed the world's first and only patent-pending, scientifically proven sanitizer, charger and locked storage system for grown-up toys.
A big leap for Martz, for sure. "After selling my company to Bob Parsons, I had the great opportunity to work for him and I learned a lot about what it really takes to be a true entrepreneur.  I have so much respect for what Bob has built and how he did it.  And it gave me the bug to do something else, perhaps at a much smaller scale, and that was to produce a product of my own.  After being exposed to a few products like toothbrushes and baby's pacifiers that were being sanitized by UV-C light, and an awkward joke at a family dinner, Brooke asked why they wouldn't apply the same technology to adult toys. Brooke was five months pregnant at the time, and had read a mom blog about the concerns of using toys while pregnant, without them being properly sanitized." 
After investigating the industry, they found there was no universally recommended method to clean these products and some manufacturers even recommended using a condom for use.  Further research highlighted that the Adult Novelty Industry is a $15 billion recession-proof business growing at a rate of 15 to 20 percent a year.  So, Martz saw an opportunity and being the entrepreneur she is, jumped in.  She began working with industrial designers, a microbiologist, attorneys, then finally traveled to China to find a factory.  And UVee, the world's first and only, three-in-one system for adult toys was born, providing a solution to safely store, sanitize and charge pleasure products with one discretely designed box.
After presenting the prototypes at a variety of adult trade shows in the US and Europe, the company has started mass production. Family, friends and business associates jumped in with her first seed money raise, and Martz was off and running. For people who questioned what she was doing or why, she responded,"Over 44 percent of women between the ages of 18 to 60 use toys and those are just the ones who admit it. Pleasure products are becoming more expensive and more complicated, people are investing more in their sex life.  We have developed a special way to insure that in less than 10 minutes every nook and crannie of a toy can be sanitized and 99.9 percent of all germs are eliminated. We are adding a level of confidence and safety to using pleasure products." 
"We also keep your most intimate items discretely stored and locked away from visitors or little curious eyes. And they will be charged up and ready to go when you are," added O'Connor.
Debuting this week, UVee will be one of the first adult-related products ever accepted on the Kickstarter crowdfunding platform, and the first sexual health product ever. Launching on Dec. 6, UVee systems will be available to early backers on Kickstarter.  In true Martz fashion, tapping into her background in marketing, Martz added a few perks to the offering – a partnership with LELO, the world's most innovative luxury toy manufacturer.  LELO is offering their best sellers with the UVee system for backers.  After presenting the product to the country's leading sex and relationship expert, Dr. Emily Morse of the top rated Podcast "Sex with Emily," she agreed to be the company spokesperson and campaign ambassador. Morse is a Doctor of Human Sexuality and has over 1.4 million Facebook fans and 45,000 downloads of her popular show a month.  The product has been endorsed by gynecologists, including Dr. Deborah Wilson of Scottsdale, who reviewed the science behind UVee and has endorsed it.  Dr. Wilson has sold pleasure products in her practice for years, encouraging women to stay sexually healthy, and now UVee can assure them that they won't be exposed to any harmful bacteria. 
What's next for Martz and O'Connor?  "We are already designing the next round of devices to further the enjoyment and confidence in using these grown-up toys for all users: couples, and single men and women.  We believe toys can play an important role in keeping men and women healthy and supple, no matter what your age." 
UVee will be available in two sizes, debuting first to backers on Kickstarter starting Dec. 6, and will be available in retail stores, such as Fascinations in February.  For more information, go to Kickstarter.com and search UVee or go to UVeeClean.com.