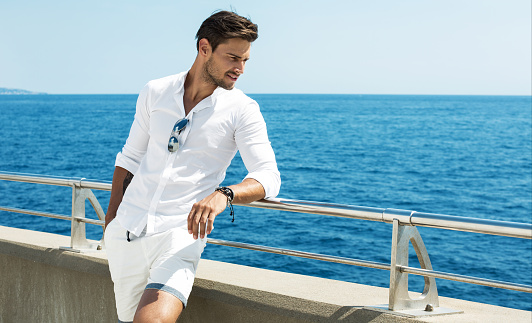 Summer means one certainty: heat. It's a particularly problematic situation for men who are buttoned up for work five days a week. A lot of things have changed in men's summer fashion over the last several years. There are now more ways men can beat the heat without compromising their sense of style than ever before.
Invest in Performance Fabrics
Over 30 years ago there was a revolution in fitness attire. In 1986, CoolMax introduced a moisture management fabric that helped move sweat to the outer layer of the garment so it evaporated quickly. Brands like Under Armour brought the technology mainstream about 10 years later.
Now, innovative materials such as these are being used well beyond the gym. Designers are making men's performance clothing for the office so guys don't have to worry about sweating through their dress shirt on the walk from the parking lot. You'll look good without the stuffiness and stiffness associated with the wardrobe of a fashionable professional. Moisture-wicking materials also reduce chaffing and can help you feel cooler when it's hot out.
Buy Yourself a Linen Suit
By now summer calendars are getting filled with vacations, weddings, graduations and more. Many of these special summer events require donning a suit outdoors. When the temperature is over 100 degrees, the thought of wearing layers can be daunting. Now is the time to start shopping for a linen suit.
Linen suits are a classy summer staple because they're made for hot weather. Linen is a very lightweight, breathable material with good heat conductivity. The fiber and way linen is woven allows for more airflow compared to other fabrics, including cotton. It also doesn't cling to the skin like other types of natural and synthetic materials. Need another reason to try a linen suit? The material can hold up to a fifth of its weight in moisture before feeling damp.
Look for a linen suit in a cream color. Creams are never out of style, and that isn't the only benefit of wearing this shade. Light colors trap less heat and help keep you comfortable when it's hot outside.
Try a Pair of Tapered Pants instead of Slim/Skinny
After years of slim or skinny styles, designers are giving men a little more breathing room with styles that let you look more like an adult and less like a college kid. This will increase the air flow while maintaining a comfy form-fitting silhouette.
Start a Cap Collection
There were a few noticeable trends at Spring 2017 fashion weeks around the world, and caps were one of them. Traditional caps were seen at Balenciaga, A.P.C. and Acne Studios just to name a few. Caps were clearly the "it" accessory in men's fashion.
The great thing about caps is they're timeless and appropriate for men of all ages. They also keep the sun out of your eyes and provide much needed shade. A well-fitted cap may not lower your body temperature, but it can make you feel more comfortable and look more stylish.
Dare to Bare Shorter Shorts
Maximizing airflow over the skin is just about the best way to cool off when it's hot outside. Naturally, if you cover less skin with fabric, you'll feel cooler. This summer season designers are giving men cooler options with shorts that are shorter than in past seasons.
Trimming length off men's shorts is a trend that has steadily grown over the last five years. In the 1990s shorts got much longer and baggier, but the mid-thigh lengths walking down today's runways are more reminiscent of the 1970s. They're also much more flattering for a man's figure and much cooler than shorts that extend past the knees.
There are lots of ways to beat the heat. Try some of these out and see how well it works for you. Experiment and find what you like!