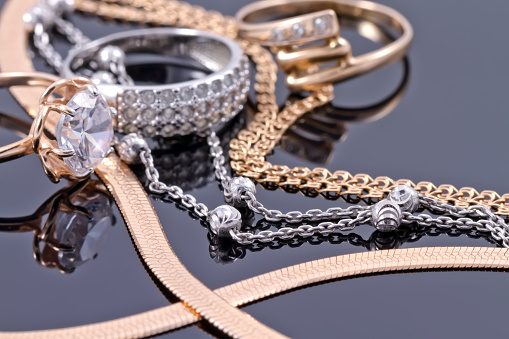 Our sense of style is much more important than many people realize. Some write it off as frivolous, but personal style has a significant impact on first impressions. No matter how much we're told you can't judge a book by its cover, that's exactly what we do. People largely use visual cues, including personal style, to form a first impression that will persist even long after they get to know you.
One of the most effective ways to express your personal sense of style is with jewelry. Jewelry is the ultimate accessory because there are so many options. Even a basic little black dress can become a head turner with an interesting, eye-catching piece of jewelry.
For hundreds of years, humans have used gems, stones and metals to indicate status and personal style. Here's why we still use jewelry to express ourselves today.
Jewelry Can Tell a Story
There's a reason you'll find jewelry on display in museums around the world. They are invaluable artifacts that tell us a lot about ancient cultures and history. From the materials used to the design elements, jewelry can provide a glimpse into the life of the owner long after they're gone.
Genuine gems and precious metals are highly prized items that people tend to hold on to and pass down from one generation to the next. These heirlooms tell a unique story about the family and the people who owned them. It's something you can also share with future generations as a way to pass down family history.
Another perfect example of women's jewelry is an engagement ring. Many engagement rings are custom-made to reflect the love between two people. Behind every engagement ring is also the story of how the groom popped the question. These stories are unique to each person and help to define an individual's personality.
Customized Pieces Make Jewelry Personal
One feature that makes jewelry noteworthy is personalization. Some jewelers are true artists that can craft one-of-a-kind pieces based on their client's exact specifications. It's a true embodiment of personal style that's easier to accomplish compared to other types of accessories like shoes and purses.
Lockets are the quintessential example of personalized jewelry. They are usually customized with a picture of a loved one, unique design and an engraving. Charm bracelets are another way to easily personalize a piece of jewelry. Fashionistas can select charms that represent something special, like countries where they've traveled or important milestones in life.
There are countless ways to customize jewelry. It can be as obvious as a customized name necklace or a subtle design that only you know is personalized. Either way, a little bit of personalization is all you need to express personal style.
More Freedom to be Funky
Every season there are sure to be quirky accessories that dress up an otherwise standard-issue outfit. No matter how outlandish they are, these accessories will find a home in someone's closet. This isn't always the case with clothing.
Since jewelry and other accessories are smaller accents people aren't as hesitant to push the envelope or go bolder than they would with clothing. Instead, jewelry is seen as a way to spice up an otherwise forgettable ensemble.
Broaches and pins are two really fun ways to express an interest and add interest to an outfit. They can feature a distinct image or make an actual statement that expresses your sentiment or support for an issue or topic.
Saying Happy Birthday to Me With Jewelry
One of the most popular ways to express something about yourself through jewelry is birthstones. Each birth month is represented by a certain stone. Because of this the stone has immediate significance to the wearer and expresses an important part of their identity – namely their birth.
Zodiac sign charms and birth date engravings have also been popular personalized pieces of personal jewelry over the years. You can fun with it by layering necklaces that feature birthstones, zodiac signs and birth dates. The selection of necklaces alone will say a lot about your personal style.
For thousands of years, people have adorned themselves with baubles as a way to capture attention and give others a sense of who they are. Trends and fashion may evolve over the years, but personal style is something that lasts a lifetime. With a little bit of creativity and a few custom pieces, you can express your unique personality through jewelry no matter what you're wearing.