Fall is here and that means it's time to put summer away and revamp your look for the new season! Here are our tips and tricks for getting ready for your new look and a few ideas on which new look to choose!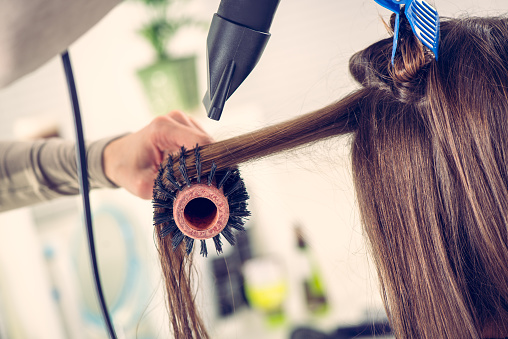 Consider the Weather
If you are living in Flagstaff you are going to be facing much different weather than you will if you live in Phoenix. Sure the temperatures drop a little bit everywhere, but Flagstaff has a rainier and colder climate than, say, Mesa. If you live in a part of the state that gets cold enough for snow and other types of inclement weather, you'll want to choose a new style that can handle cold weather fashions like hats, earmuffs, etc. You might also want to consider giving your hair some deep treatments to keep the inclement days from damaging the structure of your hair as well as its style.
Face Shape
Not everybody looks good with pixie cuts or long curling tendrils. Talk to your stylist about what kind of changes would look good based on your face shape. The last thing you want, for example, is to make a very thin face look even thinner! Or a very round face look even rounder! If you have a prominent chin, you'll likely want to stay away from the shaped bob. See what we're saying?
Color
Most of us choose to go a few shades darker during the fall and winter months and it is important to work with a colorist who knows what they are doing. If you've ever tried the home dyeing thing before, you know that going for one color all over looks weird. If weird is what you're going for, great! But if you want something that looks more natural (even if you're opting for a wild color like pink or bright blue), work with a professional colorist. A good colorist, say the experts at Encinitas Hair Salon & Spa, knows the difference between a base and an all over color. And they will know how to do color correction if something goes awry.
Trends
Here's where you get to have some fun and play around. After all, hair grows back, right? Why not take a chance this fall and winter and shake up your look with something trendy? Here are some of our favorites:
Pumpkin Spice: That's right, it's not just a flavor anymore. This trend first popped up last year and it caught our eye again this year in Good Housekeeping. The look involves copper, blonde and brown colors that work together to create an overall "gingersnap" look to your hair. It's gorgeous and definitely worth a try!
Go Bright: Yes, during the fall and winter months, the tradition is to opt for something darker and more muted in color. This year, toss it out the window and be a spot of bright and colorfulness! Warm Peach is a favorite color trend this year but we're also big fans of electric pinks and blues and or even lavender! Have fun!
Brightlights: You've undoubtedly heard of "snow lights", yes? The trend where your colorist paints bright blond highlights into your hair so it looks like snow scattered around your locks? Why not try this with a brighter or different color? This can work especially well with darker colored hair on which snow lights might be mistaken for dandruff.
Blatant Rainbow Hair: Remember Secret Rainbow Hair? This year, why not go with blatant rainbow hair? This can be a super fun look to play with because you don't have to stick with the literal rainbow. You can opt for a watermelon theme or a fiery phoenix theme or whatever you want! The great thing about these looks is that they can work both in formal and informal situations, you simply have to choose the right style (like wearing it up at work and down at the bar).
Hair Strobing: This was another great find in Good Housekeeping. The idea here is that your colorist will take your face shape, your height and the length of your hair and use them to figure out where the light would hit your head naturally and then shade those areas accordingly so that, no matter where you are or what the light quality is like, it will always look like the light has hit your hair perfectly.
These are just some of the trends and fun experiments we're excited to try this fall and winter. What are some of the looks you've been seeing around that you want to try for yourself? Let us know!