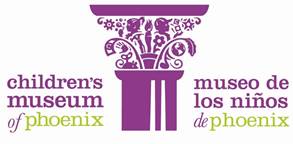 The Children's Museum of Phoenix will celebrate Hispanic Heritage Month September 15 through October 15, 2021 with programs and events that will bring a taste of Hispanic and Latino culture to the Museum for visitors to enjoy.
Throughout the month, international and local artist, GENNARO GARCIA's artwork will be on display at the Museum. A native of San Luis, Sonora, Mexico, Gennaro's use of Italian techniques with oils, acrylics, wood, and plaster, along with the combination of a Mexican color palette from his childhood, has resulted in art that showcases both world-class skill and a true Latino immigrant perspective.
Gennaro will also lead a special art class in print making on the Museum's Members-Only Night on October 15th.
Festivities during this month-long celebration also include:
September 14th-19th – Visitors are encouraged to make their own PAPEL PICADO BANNER in the Art Studio! This colorful craft gives visitors the opportunity to make their own papel picado ("perforated paper") using tissue paper and scissors.
September 14th- October 15th – Mexican artist Frida Kahlo was known for her self-portraits. She said, "I paint myself because I know myself best." In this activity, children will be encouraged to CREATE A SELF-PORTRAIT by drawing themselves using the mirrors in our Star Bar.
September 21st-30th – Children will enjoy creating a SURREALIST COLLAGE using Salvador Dali's painting as inspiration in the Art Studio.
October 1st (during Free First Friday Night, 5pm-9pm) – Visitors will enjoy performances by:
FIESTA MEXICANA DANCE COMPANY - Experience the beauty and joy of traditional folk dances from Mexico, Central America and South America. Fiesta Mexicana Dance company is a non-profit organization and serves as the official folkloric group for the City of Phoenix.
MARIACHI PASION – A local all-female mariachi band, Mariachi Pasion was formed in April 2002. The group itself started in a music class at Arizona State University and has grown into a fifteen-member group with the majority of musicians having worked their way through their education playing mariachi music. The group consists of educators, insurance agents, financial managers, health care professionals, marketing professionals, entrepreneurs, IT professionals, accountants and engineers plus several musicians working their way through Arizona State University.
October 5th-10th – This week's Art Studio project will include GUATEMALAN BARRILETES, where children will be able to build their own colorful kite like those from the Giant Kite Festival in Guatemala.
October 12th-17th – Children can create a colorful DÍA DE LOS MUERTOS SKULL in the Art Studio.
The above programs are FREE with paid Museum admission of $16.00 per person. Members and children under the age of 1 are free.
Masks are required for all visitors ages 2 and up, regardless of their vaccination status.