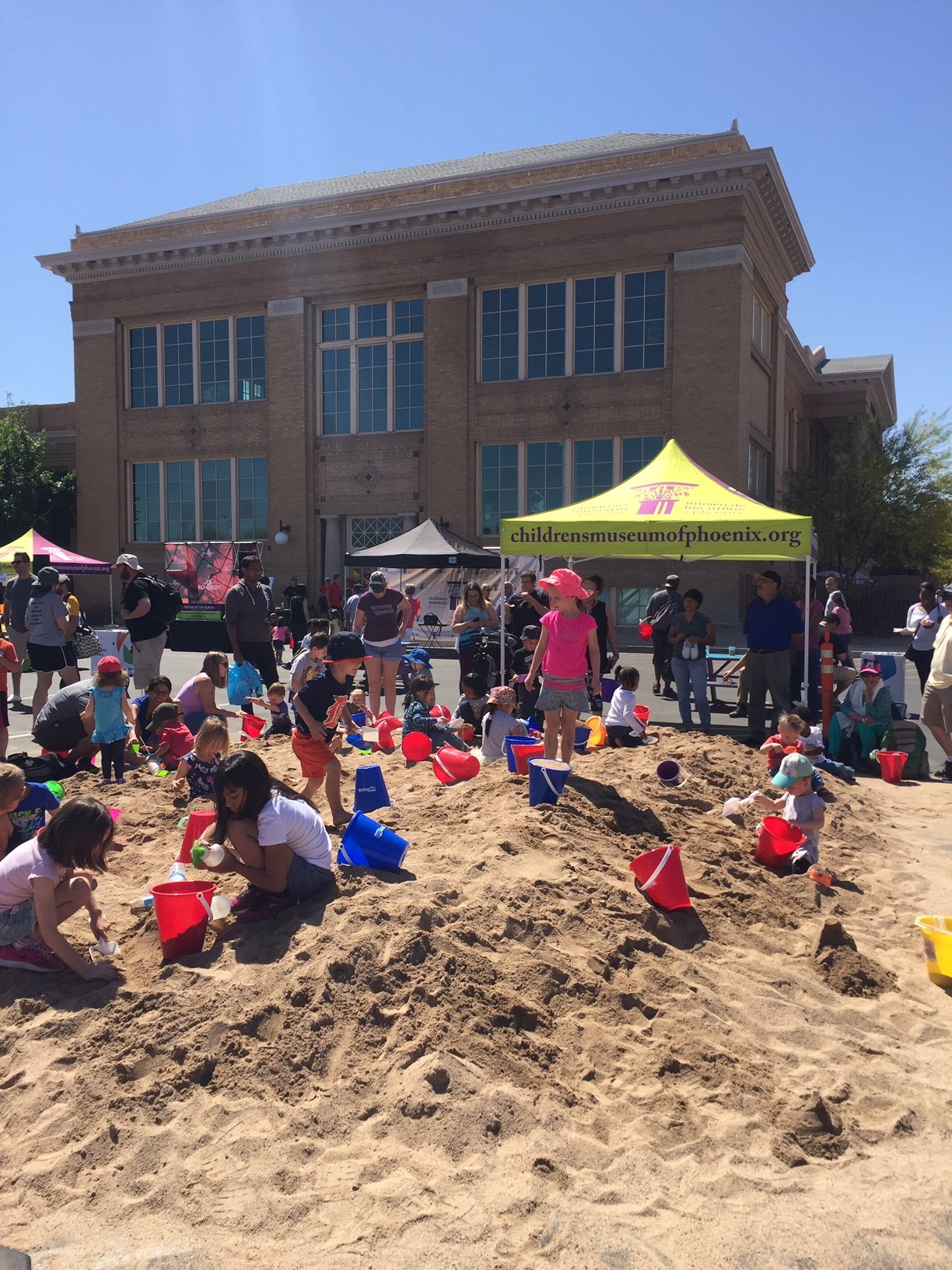 Children's Museum of Phoenix Brings the Beach to Downtown Phoenix with Sandfest 2021
Open 7 days a week for Spring Break March 5-21
The Children's Museum of Phoenix brings even more fun to downtown Phoenix March 12 through 13 with the return of their annual SandFest event, a fundraiser to benefit the Museum's Every Child Program.
This two-day outdoor event includes a sand-sculpting competition, sand fun all day for kids and families, music, entertainment, and a one-of-a-kind signature sand sculpture created by the "Sand Guys" from Travel Channel's "Sand Masters" show.
In recognition of the ongoing pandemic, this year's SandFest event will include safety measures to make the event as safe as possible. This includes reducing the number of sand sculpting teams and allocating two days for the competition to allow teams to stagger their sculpting. All sand teams will be distanced, and all participants will be required to wear a mask.
Visitors will be able to cast their vote for best sand sculpture throughout the day on Friday, March 12th as well as Saturday, March 13th. Mayor Kate Gallego will oversee the final judging of the sculpture at 3 pm on Saturday, March 13th, and will announce the winner. Competitors will vie for the coveted "Golden Shovel" first prize.
This year's sand-sculpting competitors are: Barker Pacific Group, DPR Construction, Okland Construction, Plaza Companies and SmithGroup JJR.
Entertainment for both days include DJ Cora along with photo opps with the following special guests:
Friday, March 12:
10-11: The Marvelous Captain
11-12: The Little Mermaid
12-1: The Polynesian Princess
Saturday, March 13:
10-11: American Captain
11-12: The Polynesian Princess
12-1: Spidey Guy
The Children's Museum gratefully acknowledges the generosity of T.W. Lewis Foundation, Renaissance Phoenix Downtown Hotel and Pioneer for their sponsorship and support of SandFest 2021.
Additionally, the Museum acknowledges their valuable Community Partners for the event -- DJ Cora, Event Rents, Grand Canyon Brewing, Funergy, Latest Craze Production, SandGuys, Sunstate, University of Arizona, and Legacy Traditional Schools
SandFest is part of the Museum's outside play experience – Adventure Play. The Museum has replaced the previous centerpiece of Adventure Play – the Straw Bale Castle and Maze – with 200 tons of sand. The Museum will also add sprinklers and sand toys for a true beachy vibe for kids and adults to enjoy. Sand play will remain the centerpiece of Adventure Play through Mother's Day. The Museum will also bring back its popular foam cannon experience as well as Mud Kitchen.
SandFest activities are included in Adventure Play's admission price of $14.95 per person. Children under the age of 1 and Members are free. Tickets must be reserved online at ChildrensMuseumOfPHoenix.org prior to visiting. During Spring Break, Adventure Play will be open, 7 days a week March 5 through 21, 9am to 4pm.
The Museum's indoor exhibits remain closed until further notice.