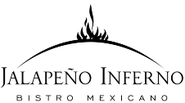 Hosted by: Jalapeno Inferno
The event will start on: May 8, 2011 10:00am
And will end on: May 8, 2011 2:00pm
23587 North Scottsdale Road , Scottsdale AZ
Jalapeno Inferno, North Scottsdale's favorite authentic Mexican Restaurant, will be featuring it's famous "MEXICO-CITY BRUNCH" for Mother's Day. This popular All-You-Can-Eat Brunch is known for its amazing price-value, and delicious homemade Mexican food.
Their Brunch features chef carved roasted turkey, made to order omelettes, taco bar, and a wide selection of Mexican entrees, salads, and pastries. It is the perfect place to treat mom for Mother's Day. A complimentary "Lady Boss" Margarita or glass of sparkling wine will be their treat to Mom with her Brunch.
Make reservations for your family and ask to dine on their beautiful patio!
Sunday May 8, 2011
10AM-2PM
$18.99 Adults
$7.99 Children 6-10
Free for kids 5 and under