Hosted by: Heirloom An American Restaurant
The event will start on: Apr 6, 2011 10:00am
And will end on: Apr 6, 2011 2:00pm
At Heirloom An American Restaurant
20775 N Pima Rd Suite 100 , Scottsdale AZ
Come dine with the Heirloom family, as Chef Michael DeMaria churns out an exceptional Easter Brunch! The menu features an array of gourmet brunch classics, done in a way only Chef Michael could produce. Your family will love the variety of dishes, as Heirloom serves up something for everyone. A few selections include:
Blueberry Brioche French Toast with Nutmeg Cream, Caramelized Banana, Blueberry and Syrup
Chicken-Fried Steak on Mashed Potatoes, Sausage Gravy & Over-Easy Eggs
Farm Omelet: Portabella, Zucchini, Peppers, Spinach and Goat Cheese with Basil
Fresh Sliced Fruit Platter with Plain Yogurt and Granola
Smoked Salmon Scrambled Eggs on a Potato Cake with Chive Beurre Blanc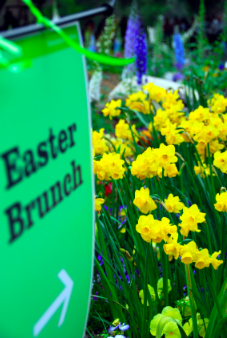 If you arrive at Heirloom a bit later in the day, not a problem! Chef Michael has you covered with skillfully prepared lunch plates (including many that use his signature, hand-crafted pasta). Lunch will be served starting at noon on Easter with fare that includes:
A Slice of Iceberg on Maytag Bleu Cheese, Grapes, Tomatoes, Olives and Red Onion
Iowa Pork Chop and Apple Sauce, with Green Beans and Almonds
Saffron Risotto with Roasted Cauliflower and Crispy Prosciutto
Fusilli Spacatti & Grilled Calamari with Sun-dried Tomato Basil Pesto
Strozzapreti Pasta and Braised Lamb Ragu with Manchego Cheese
To view the full menu, visit www.mculinary.com/heirloom or www.facebook.com/heirloomanamericanrestaurant. To make reservations contact Heirloom at 480.515.2575.
Heirloom – An American Restaurant
20775 N. Pima Road • DC Ranch
Scottsdale, AZ, 85255
480.515.2575