The Ritz-Carlton, Dove Mountain resort is offering its Four Days of Thanksgiving Weekend to help you celebrate in style. The events, November 22-25, provide a perfect way to spend the holiday and with no clean up to boot!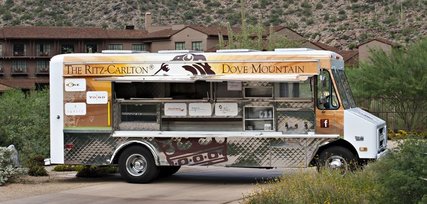 Highlighted events include a Thanksgiving Day brunch and dinner at CORE Kitchen & Wine Bar. The brunch is set to include the resort's popular raw seafood bar and action stations, along with seasonal and holiday eats. Thanksgiving dinner guests will choose from entrees like Maple-Glazed Amish Tom Turkey, Filet of Beef, Seared Petrale Sole and Mushroom & Swiss Chard Cannelloni. The three-course dinner will also include a dessert buffet, catered specifically to your holiday cravings.
Don't worry guys—the Ritz hasn't forgotten about football! The resort's new Roadrunner Food Truck will offer tailgate bites for game watchers on both big football days. A Saturday Cowboy Barbecue Buffet at Cayton's Restaurant with live country music and the CORE Kitchen & Wine Bar's Sunday Market Brunch are also among the highlights.
Thanksgiving weekend dining is open to the public and to resort guests.
Thursday, November 22
-10 a.m.-3 p.m. Thanksgiving brunch, CORE Kitchen & Wine Bar
-11 a.m.-3 p.m. Roadrunner Food Truck Tailgate Experience, Ignite Patio
-5 p.m.-9 p.m. Hand-made Sushi, Ignite Lobby Lounge with live entertainment
-7 p.m.-9:30 p.m. Stargazing Experience, Cayton's Restaurant
Friday, November 23
-5 p.m.-6 p.m. CORE Wine Experience, $20 each
-5 p.m.-9 p.m. Hand-made Sushi, Ignite Lobby Lounge with live entertainment
Saturday, November 24
-5 p.m.-6 p.m. CORE Tequila Experience, $20 each
-5 p.m.-8:30 p.m. Cowboy Barbecue Buffet, Cayton's Restaurant
-5 p.m.-9 p.m. Hand-made sushi, Ignite Lobby Lounge with live entertainment
-7 p.m.-10 p.m. Chocolate Decadence Buffet, Ignite Lobby Lounge
Sunday, November 25
-10 a.m.-3 p.m. CORE Sunday Market Brunch, $48 each
-11 a.m.-3 p.m. Roadrunner Food Truck Tailgate Experience, Ignite Patio