Kathy Shayna Shocket has the INSIDE scoop on the Valley's social scene and Celebrities.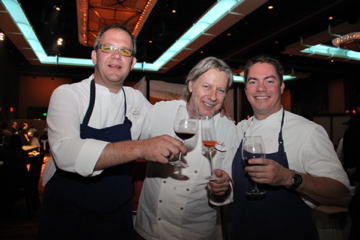 Kathy's behind the scenes dish on the party Christopher Gross and his celebrity chef buddies cooked up for the American Liver Foundation's Arizona chapter!
Chef Christopher Gross, Chef Michael DeMaria and Chef Todd Berry and 28 of their celeb chef buddies are still celebrating the success of the fundaiser they co-chaired - the Flavors of Phoenix. It was an amazing sellout. (In fact, this week Christopher and five other top Valley chefs cooked a private dinner for 20 people in the home of a prestigious doctor.  The six courses paired with wine- fetched $8,000 and was the biggest selling package for the Flavors of Phoenix dinner. Guests at the private dinner enjoyed the donated talents of Chef Christopher Gross, Chef Kevin Binkley, Chef Matt Carter, Chef Aaron May, Chef Beau MacMillan and Chef James Porter.
The main fundraising event at the Kierland Resort - is a unique dinner with 31 culinary masters.  It's not your typical sit down dinner fundraiser. Although the popular expression states that "too many cooks in the kitchen spoil the soup," this event has proved otherwise.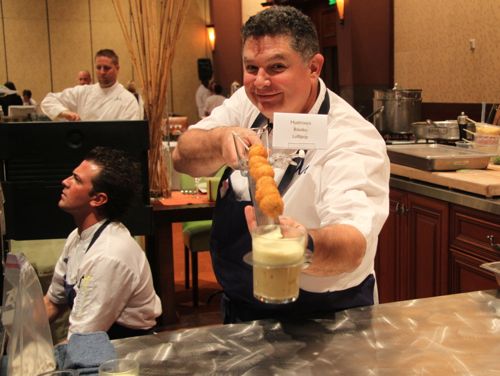 Chef Michael DeMaria 
Each of the 31 chefs prepared a 5-course menu cooked table-side for a party of 12 guests- all in one ballroom. Each restaurant re-creates its own ambiance within the ballroom - producing an overall intimate artistic setting. Not to mention the incredible aromas.
The diverse physical settings transport guests into an elegantly creative ambiance - one that has that the flair of  being at the actual restaurant, yet being a part of a major fundraiser as well.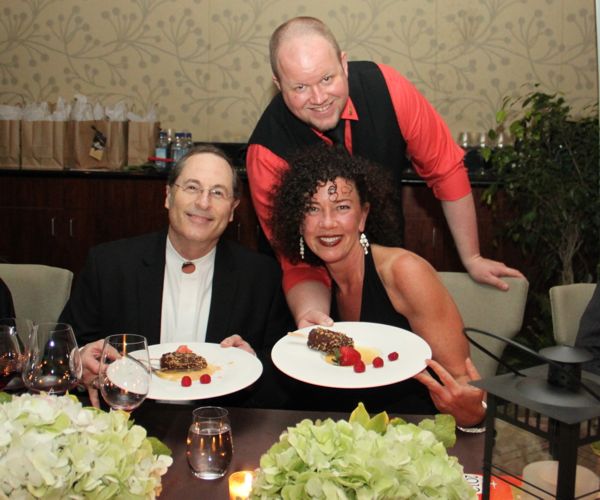 Dr. Neil Shernoff and Cigna Healthcare of Arizona's Stephanie Gorman 
Top executives from hospitals and corporations such as Mayo Clinic , Cigna Medical Group, Talking Stick Resort and Banner Good Samaritan Medical Center are among those on the guest list of 400 partygoers. As Cigna Healthcare of Arizona's President and General Manager Stephanie Gorman points out - "Not only is it a great foodie experience but, disease is the enemy and we want to support an organization such as the American Liver Foundation that works so hard to fight disease." 
Dennis Leong, president and CEO of Talking Stick Resort echoes the appreciation for the effort the chefs put into creating their individual dinner settings. "I have never seen so much quality culinary talent on display under one roof, " he adds.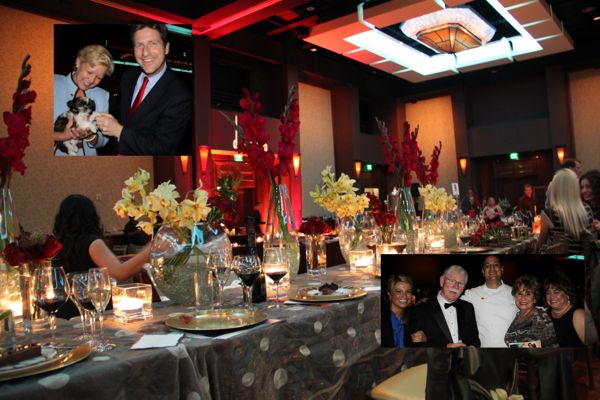 Phoenix Mayor Greg Stanton and Cynthia Gardner (upper left) KEZ's Marty Manning, Chef Daniel Patino and friends (lower right ) 
Corporate and individual commitment annually for this dinner is reflective of their support for the American Liver Foundation and its mission is to facilitate, advocate and promote education, support and research for the prevention, treatment and cure of liver disease.
Also... a heartwarming finale to the evening.... as I was snapping  a photo with  Mayor Greg, while he was mingling with American Liver Foundation executive from New York Cynthia Gardner -  I brought  the puppy over and put it in Cynthia's arms. Well, long story short... she decided she had to have the adorable cuddly and bid $1,000 on him in the live auction. He's now happy in his new New York City home and braved Hurricane Sandy. By the way.. she named him HB for Heart Breaker - quite appropriate!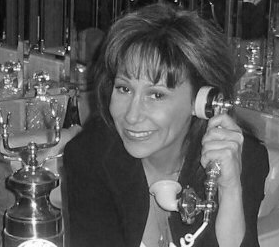 Kathy Shayna Shocket is a Reporter, Photographer and TV -Field Producer based in Phoenix.  She has written and reported for prestigious publications such as TIME magazine, PEOPLE magazine,  MONEY magazine and the New York Times. You can reach her  This e-mail address is being protected from spambots. You need JavaScript enabled to view it