Baxter and Bella are a pair of seven-month-old Chihuahuas.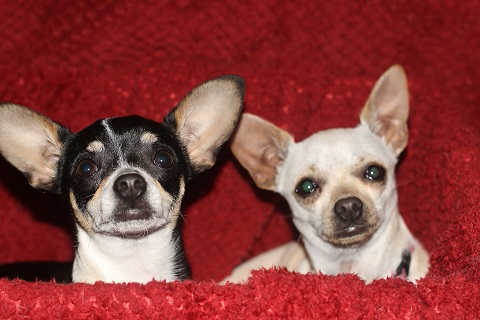 Baxter and Bella were rescued from a terrible situation and they are the sweetest dogs. Due to their early trauma, they are extremely bonded and must be adopted as a pair. They are both very easy, well-behaved, loving dogs. They just want to snuggle and give kisses. They are house trained, doggy-door trained, and crate trained. They have had dentals, are current on vaccines, and spayed (Bella) and neutered (Baxter).
Due to their very small size we will put them into a home with Children under the age of 12 years old.
The adoption fee for the pair is $350. We will NOT separate them.
Bella is the tan one, and Baxter the black & tan one, they are7 months (as of March 20). The pair is very small sized at 5 pounds and will not get much bigger. They have a lovely disposition and get along well with other dogs. Baxter and Bella are very sweet and snugly
If you are interested in meeting them, please fill out an application and their foster mom will contact you.
Lucky Dog Rescue is an all foster-based and all volunteer-run organization. Any money donated to us goes directly to the care of our dogs. We are a registered 501(c)3 nonprofit organization. We are always looking for new foster homes, volunteers, that share our passion. Please feel free to email us for more information on how to donate or volunteer This e-mail address is being protected from spambots. You need JavaScript enabled to view it
Please visit our homepage to learn more about us. www.luckydogrescue.org
If you can't adopt right now, why not consider fostering a dog? Fostering dogs helps us save dogs from high-kill shelters. We provide anything monetary your foster dogs will need; you provide the love and a comfy home. For more info please email: This e-mail address is being protected from spambots. You need JavaScript enabled to view it