Easton and Parker are eight-year-old purebred Labrador "brothers" and Emilou is an eight-month-old Great Pyreneese looking for new loving homes.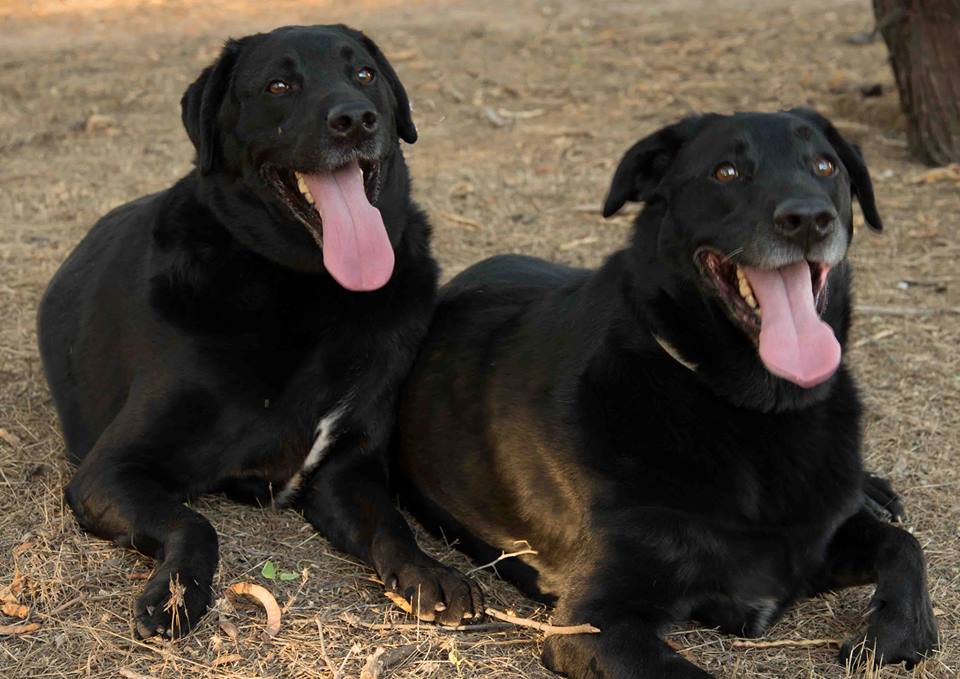 Easton and his brother Parker (on the right) came into Lucky Dog Rescue through no fault of their own. They were both turned in to a shelter. Lucky Dog Rescue just had to step in and help these two great boys. They have been together for their entire eight years. We will not split up these happy go lucky pups. They are house trained and know all basic commands. They love to go for car rides too! Parker is a little overweight at 100 pounds, and could stand to lose a few pounds. With quality food and exercise, this is an easy task.
Both dogs were checked by our vet and are healthy. Parken and Easton love other dogs and all people.
Easton and Parker are neutered, up-to-date on vaccinations and micro-chipped. The adoption fee is $350 for the pair. Please fill out an application if you would like to meet these wonderful fun loving boys! www.luckydogrescue.org
Emmilou is a Great Pyrenees puppy, who was given up because she got too big. Yes, too big!
She is gentle, and sweet, and just the coolest dog. She still has a bit of growing to do, and will easily hit 90 pounds or more.
Emmilou loves other dogs and is fine with older kids. Due to her size and puppy behavior, we will not adopt her out into a home with children under the age of ten.
Anyone interested in this dog should research the breed before submitting an application. As a puppy, she cannot be left alone for long periods of time. Like any puppy, she will need a commitment for training. Emmilou is currently enrolled in a five week basic obedience class . Emmilou is up-to-date on vaccines, spayed, and micro-chipped.
This breed will also need a grooming commitment, she should get brushed regularly. Emmilou loves to swim and loves to be in the pool. Fetching is one of her favorite games.
Her adoption fee is $350.00. Please submit an application, if you'd like to meet Emmilou. www.luckydogrescue.org
Lucky Dog Rescue is an all foster based and all volunteer run organization. Any money donated to us goes directly to the care of our dogs. We are a registered 501 c3 nonprofit organization. We are always looking for new foster homes, volunteers, blankets, leashes, food; anything that has to do with dogs with can use. Please feel free to email us for more information on how to donate or volunteer This e-mail address is being protected from spambots. You need JavaScript enabled to view it
If you can't adopt right now why not consider fostering a dog? Fostering dogs helps us save dogs from high-kill shelters. We provide anything monetary your foster dogs will need; you provide the love and a comfy home. For more info please email: This e-mail address is being protected from spambots. You need JavaScript enabled to view it