Emergency Animal Medical Technicians from the Arizona Humane Society found Andy and Abbie tethered to a tree after they'd been abandoned by their owner.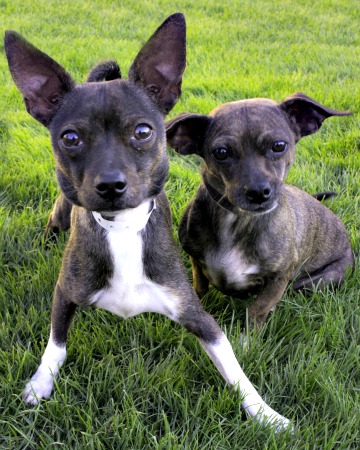 Andy was distraught without his owner and now relies heavily on Abbie for reassurance. Andy may be a little needy, always craving attention and the spot light, but Abbie is always willing to share her dog bed or a cozy lap. Abbie is more easygoing at the age of five and she's a big lover who loves to cuddle.
The two Chihuahua's have plenty of sloppy kisses to share and often times will roll over for a belly scratches as well. Their small size makes them great apartment dogs as long as they have a brisk walk in the morning. They are well-mannered, eager to please and always wagging their tails but these two happy dogs may need a refresher course on the house rules. Time, consistency, routine and reassurance will help these two gain confidence and independence.
They are available NOW at the Campus for Compassion located at 1521 West Dobbins Rd in Phoenix. Their adoption fee TOGETHER is $35 and includes their spay/neuter surgery and vaccines. For more information call 602-997-7585 x 1045 and ask for animal ID numbers A414622-25.