Founded in 2006 by Barb Rabe, President, Arizona Chihuahua Rescue is an all-volunteer, non-profit dog rescue that saves, rehabilitates and places Chihuahuas and Chihuahua mixes into permanent homes. Further, the group educates the public about the responsibilities of pet ownership to alleviate the problem of unwanted pets. Lastly, volunteers build public awareness about the human-animal bond and its benefits to society. Please visit www.azchihuahuarescue.org or call 480-844-2447 to learn more about Arizona Chihuahua Rescue.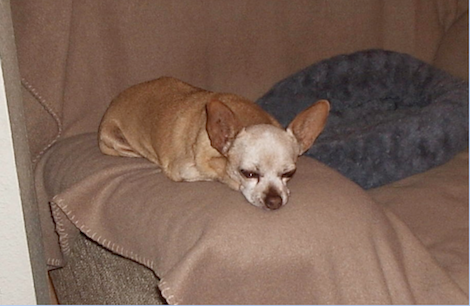 Eleven-year old Ghita came from a puppy mill in February 2009. For the first 8 years, she lived in a cramped cage, constantly churning out puppies for sale in pet stores. Human contact and exposure to daylight were rare. A petite gal weighing only 5 ½ pounds, she is a gentle, sweet dog who rarely barks.
At the time of her rescue, a large abscess swelled her muzzle. A veterinarian said infected teeth were the cause. Puppy mill dogs rarely receive veterinary care or nutritious food. Nearly all her teeth were extracted but a regimen of antibiotics and proper nutrition helped Ghita heal. X-rays revealed two collapsed discs and a malformed spine, likely a congenital defect.
As of August, Ghita is totally blind from cataracts yet amazingly, she takes no medication. She lives inside an exercise pen with a comfy bed, water bowl and potty pad. She gets "holding/snuggling" time with her foster Mom. She knows the route from her pen to the patio door to go outside once or twice daily depending on the weather. In good weather she enjoys a short period of sun-bathing and she always looks forward to her biscuit before bedtime.
Ghita's health issues demonstrate the appalling conditions dogs endure in puppy mills. Despite years spent in isolation, she interacts with people and enjoys a good belly rub now and then. She likes being held for short periods and gives gentle licks. She is spayed, up to date on vaccines and has a microchip. The ideal home would be without large dogs or young children. Ghita's final years should be filled with comfort, quality care and family love. If you are that special family, please contact Melinda Thomas at This e-mail address is being protected from spambots. You need JavaScript enabled to view it  or call 480-215-0475 to arrange a personal visit.
The Phoenix Animal Care Coalition (PACC911) is a non-profit organization uniting the local rescue community through adopt-a-thons, humane education, fundraising and the unique Emergency Medical Fund (EMF) available exclusively to its 100+ rescue partners. PACC911's EMF has allowed its partner rescues to save thousands of animals by providing financial assistance to offset costly medical treatment. PACC911 relies on donations to sustain this life-saving fund. For more information on PACC911 or to donate to the EMF, please visit www.pacc911.org, call 602-992-4779 or mail your donation to: PACC911, 10645 N. Tatum Blvd., Ste. 200-516, Phoenix, AZ 85028