With a background in aviation and extensive travel experiences, Tommy Constantine, retired pro auto racer and successful business owner, desired a way to bridge the gap between commercial and private air travel. In 2004, such a concept was born—Set Jet—and, as of this year, it is now ready to spread its wings. Headquartered in Scottsdale, Set Jet is a member-based service that provides all the bells and whistles of a private aircraft (think an exclusive terminal, high-end food and drink and more) at an affordable price. In 2011, pilot and TASER International co-founder, Thomas P. Smith, joined the Set Jet team. Here, Smith discusses how the innovative start-up makes customers feel as if they're on top of the world.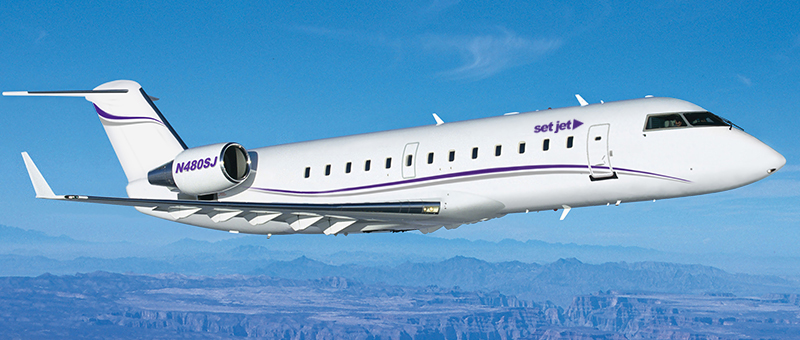 AFM: How did you decide on the concept for Set Jet?
TS: I met Tommy Constantine when I was chairman and co-founder of TASER International, and we sponsored [Constantine's] Playboy Racing Team. Tommy owned the team and he was also one of the team's drivers, and we became friends and stayed in touch since then. When he shared his vision for the Set Jet concept, I was immediately interested in being a part of it. As a pilot, an aviation enthusiast and a frequent traveler, I have hoped for someone to figure out how to fill the huge void between traveling on the airlines and flying private. Many have tried to do this and have failed for a number of reasons. But what Tommy has created and refined over the last six years is a solution that we believe will really work. There are very specific nuances in the Set Jet model that differentiates it from all the others that have tried this and failed, and it's those nuances that make all the difference. It's for these reasons and my passion for aviation that drove me to join the company and help execute Tommy's plan.

AFM: Who is your clientele?
TS: Our clientele ranges from the average traveler, to several A-list celebrities, to some of the wealthiest individuals in the world who charter or own their own private jets. It's because of the price point, the level of service and the overall experience that we provide that we have been able to capture such a wide-range demographic. There is simply no reason to subject oneself to the typical inconveniences of flying commercial anymore and, by the same token, it doesn't make sense for one to incur the cost of flying private now that we have made Set Jet available in the southwest.

AFM: Why was Scottsdale chosen as the home base for this concept?
TS: Scottsdale provided the perfect platform for us to launch the Set Jet program for a number of reasons. First and foremost, it worked for us geographically. Both Tommy and I have lived here for many years and have experienced firsthand the inconveniences related to driving down to Sky Harbor, and all the typical hassles associated with large airports, crowds and boarding commercial flights. Our members have a much better overall experience with fewer travelers and the highest levels of safety and security, ensuring a convenient, efficient, safe and pleasant journey. The Scottsdale Airport's convenient location, the availability of the entire terminal and both gates, plus the free parking that we have available, made it a perfect fit for us. The City of Scottsdale has also been incredibly supportive of Set Jet, namely Mayor Jim Lane, the Scottsdale City Council and Scottsdale's Airport Manager, Gary Mascaro.     

AFM: How does your company differ from those in the private jet industry?
TS: There has never been anything like Set Jet before. Set Jet is a membership-based model with stability and consistency that truly bridges the gap between commercial and private air travel at a reasonable price point. Set Jet will be launching with daily flights from Scottsdale to Las Vegas, Los Angeles, Orange County and San Diego, in specially configured 16- to 18-seat Bombardier CRJ200GLS and CRJ200XR jets with VIP interiors. Membership has a cost of $100 per month, and flights will cost between $300 and $400 one way. [Set Jet is launching with an introductory membership price of $50.] Membership will also entitle our members to other benefits and discounts, as well as preferred access to some of the best food and beverage, hospitality, entertainment and ground transportation providers in the industry.

AFM: Upon stepping on a Set Jet aircraft, what can a customer expect?
TS: Our airplanes feature $5.5 million interiors with incredible finishes that rival the most expensive and luxurious private jets in the world. All of our aircraft have free WiFi internet access, and our members are provided top-shelf alcoholic beverages, soft drinks and premium foods, also free of charge. Most importantly, our members are provided a level of personal service and an overall experience that one might only expect from a five-star resort.  

AFM: What about your terminals? What makes them so luxurious?
TS: We have spent a great deal of time and money remodeling the Scottsdale Airport Terminal. The Set Jet terminal area is now essentially the equivalent of a lobby in a five-star hotel, except that this exclusive area is reserved for our members and is accessible by key card only. In addition to the passenger-waiting lounge, we have created a state-of-the-art business environment including a large conference room so our members can fly in clients and hold high-level meetings right there at the terminal if they wish. Outside of Scottsdale, Set Jet has partnered with the finest FBOs (Fixed Base Operators) in the private aviation industry.

AFM: What has been the most rewarding aspect of being a part of Set Jet?
TS: It has been the overwhelmingly positive response that we have received from our early-enrollment members, our corporate partners and our federal, state and local governments in each of the cities we serve. As a result, we have been able to partner with some of the most powerful and luxurious brands in the restaurant, hospitality and gaming industries. The strength of the Set Jet business model was evident from the very beginning. Even before we officially launched the business, it was this kind of reaction and support from such major players that validated the Set Jet concept.  That has been great, and it motivated us that much more to make it happen.
TO LEARN MORE
Set Jet www.setjet.com.