Page 2 of 6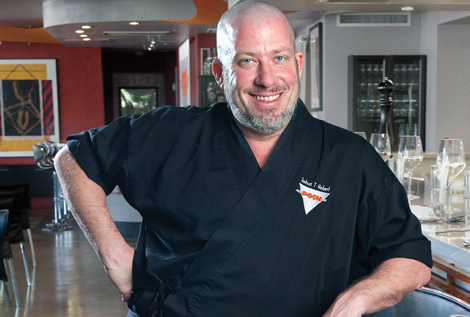 2nd Place: Joshua Hebert of Posh Scottsdale
Chef Hebert shows off his innovative culinary know-how at Posh Scottsdale, a restaurant that has impressed with its improvisational cuisine since 2008. "The thing I love most about what I do is that every
day is different—and never boring," says Hebert, who first sharpened his fine dining skills when working at Tarbell's when it opened in the 90's.
Favorite…
Way to satisfy a sweet tooth: Black gumdrops.
Midnight snack: Chicken noodle soup or Ramen.
Cereal: I haven't had a bowl of cereal since I was probably 6 years old.
Fast-food restaurant: Bueno Burger.
Bottle of wine: Older vintages of Domaine Tempier from Bandol.
Sandwich: Braised pork and escarole from Pane Bianco.
Pizza toppings: The combo of pepperoni, bell peppers, mushrooms and olives is my fave.
Cut of meat: New York.
Kitchen tool: My brain.
City for dining: Tokyo—hands down.
Place to dine in the Valley: Four Peaks Brewery. I go there more than anywhere else, but I love many places.
Chef: Eric Ripert.