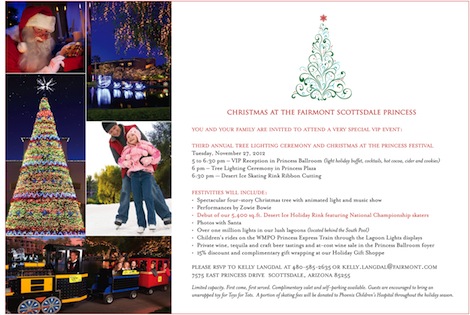 When: November 27, 2012 Begins at 6:30pm
Where: The Fairmont Scottsdale Princess Hotel in the Princess Plaza
Why: This is a must-see event! Third annual Tree-Lighting plus many other festivities. The evening includes musical performances, Santa Claus, carolers, complimentary sugar cookies and spiced cider on the Plaza. Be the first to try out the new Desert Ice Holiday Rink! Following the ceremony, the Desert Ice Holiday Rink is christened with demonstrations by professional skaters and then opens to the public. The resort's Holiday Shoppe will have a "Sparkle" event where kids dip and paint their own sparkle ornament for $5. The event also kicks-off the resort's annual Toy for Tots Drive.
Valet parking is $10 and self-parking is complimentary.
About the Tree Lighting: Specially-designed for the Fairmont Scottsdale Princess, the tree has 65,000 LED lights which "twinkle and dance" to 10 holiday songs. This synchronized lighting and music show runs 6 p.m.– 10 p.m. nightly throughout the season, playing approximately every 10 minutes. During the day, this dazzling, four-story tree is a visual experience, with dozens of glistening snowflakes and a 5-foot snowflake tree topper.
RSVP to Kelly Langdal at 480.585.2635 or at This e-mail address is being protected from spambots. You need JavaScript enabled to view it