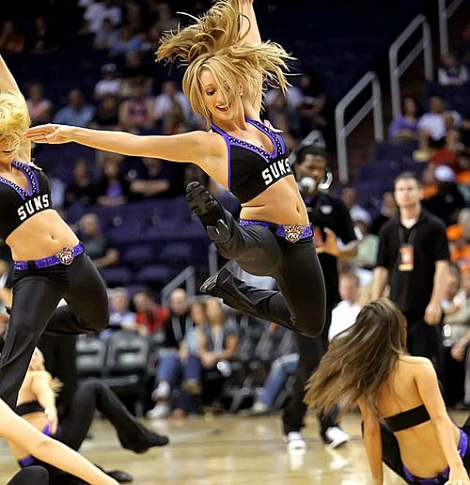 What: Phoenix Suns Dancers Auditions
Where: Sheraton Phoenix Downtown Hotel
340 North 3rd Street
Phoenix, AZ 85004
When: Auditions begin August 11 at 9 a.m.
Prep classes: July 18, July 30, August 8 6:30- 9:00 pm
Why: Time to get your dancing shoes on because auditions for the 2012-13 Phoenix Suns Dancers is set to begin Saturday, August 11. Registration begins at 9 a.m. at the Sheraton Phoenix Downtown Hotel.
It is highly recommended to attend one or more prep classes prior to auditions in order to fully prepare for the audition process. Prep classes will be held on July 18, 30 and August 8 at US Airways Center from 6:30– 9:30 p.m., with registration beginning at 6 p.m. Prep classes are $50 each and consist of a group warm-up, across-the-floor combination, stylized combination, freestyle practice, nutrition and fitness instruction, lessons in make-up application and more.
Dancers must be 18 or older to participate, have a high school diploma or GED and bring a non-returnable photo and resume.
For more information, visit Suns.com or call 602-379-7951